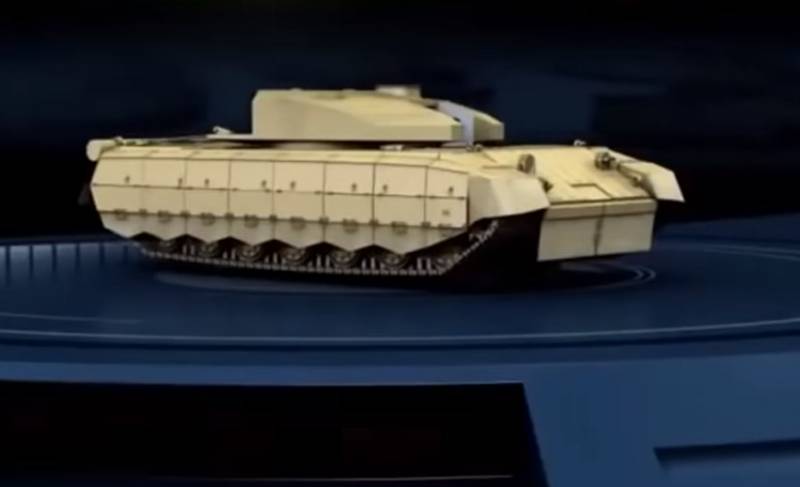 Ukraine refused to create a tank, which was supposedly to surpass the Russian T-14 Armata in its parameters. As it turned out, this technique is more dangerous for itself and its crew than for the enemy. There was confirmation that the Ukrainian factories finally refused to implement the "development" of "Azov" (* an extremist organization banned in Russia).
For the first time information about the project of creating a new Ukrainian
tank
"Tirex" became known to the general public in 2016, when several Ukrainian media outlets solemnly reported about it.
In Kiev, they said that this "miracle of technology" will change all ideas about tank building, making a real revolution in this industry.
The basis for the new tank was to be the Soviet T-64. Like the Russian Armata, the new tank was supposed to be equipped with an uninhabited turret. They even thought to go further and consider the possibility of creating an unmanned version of this armored vehicle.
As a result, not even a prototype was created, and the project remained on paper. The reason was a whole complex of gross mistakes made in the development of a combat vehicle. At the same time, Azov * continued to assert that the project would be finalized and put into production.
The 39-ton tank was supposed to fire high-powered shells from a 125 mm cannon. At the same time, as it turned out, problems with the stability of this armored vehicle could arise even when firing from a spot, not to mention firing on the move. Simple calculations, as it turns out, showed a possible rupture of the tank barrel when fired again (a short time after the first) in battle. The reason - in the steel grade, which was supposed to be used for high-energy ammunition.
Firing in motion would also lead to excessive loads on the rear of the turret and the transfer of impulse to the ammunition, which could detonate.
The design of the tower also raised questions. If it was hit from behind by a shell, even tangentially, it could come off.
And then in Ukraine they decided that they did not need such a tank yet. Now the Ukrainian factories have put an end to the question of the possible production of "Tirex": the tank will not be produced.