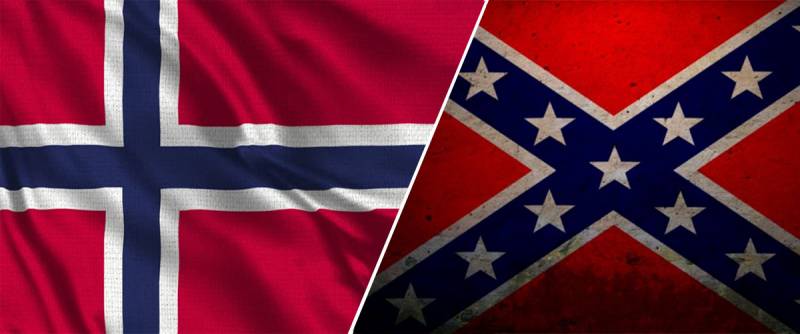 A wave of aggressive performances in the United States swept over local hotels. Reports come from Michigan that the owners of one of the hotels, set up in a mansion during the Civil War in the United States, were forced to remove the Norwegian flag from the facade. This flag was posted on the facade in 2018 due to the fact that the owners of the guest house have Norwegian roots. Moreover, the flag of Norway hung next to the American one.
The owners of the hotel were perplexed by the demands of the "activists". As it turns out, the protesters threatened reprisals against the owners of the guest house, as they believed that they had hung the Confederate flag during the civil war. The flags have the same colors, but it was obviously a stretch to mistake them for the same.
Greg Offenbecker, the owner of the mansion, says he is annoyed by "human stupidity":
We had to remove the Norwegian flag after receiving about a dozen threatening letters. It was possible to confuse the flag with the Confederate flag, perhaps, if you did not know at all what the flag of Norway looks like. They would pay attention at least to the fact that the flag is not an oblique cross, but a straight one, and that there are no stars on it. The stupidity of these people annoys me!
Let us remind you that earlier the wave of the demolition of monuments swept across the United States. Even the statue of Christopher Columbus, who is considered to be the discoverer of America, got it. The protesters demolished monuments to the generals of the South, who advocated the preservation of the slave system during the American Civil War. Monuments to several American presidents have been desecrated.