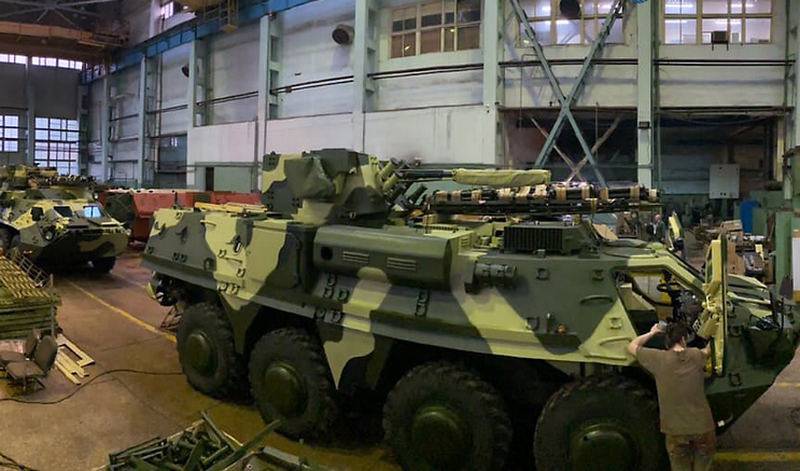 The Armed Forces of Ukraine (AFU) received four more BTR-4E armored personnel carriers under an overdue contract. The equipment was manufactured and transferred by the Kharkov Mechanical Engineering Design Bureau (KMDB).
As stated in "Ukroboronprom", the BTR-4E delivered to the Armed Forces of Ukraine are the penultimate batch manufactured under an overdue contract for 45 armored personnel carriers. The last batch of 4 BTR-4s is planned to be handed over to the Armed Forces of Ukraine in August. In the future, the KMDB will be engaged in the production of the BTR-4 for the National Guard already under another contract, but also overdue.
Thus, according to the Ministry of Defense of Ukraine, the military has already received 41 armored personnel carriers BTR-4 under the 2016 contract. The new armored personnel carriers will enter service with the 92nd separate mechanized brigade named after Koshevoy Ataman Ivan Sirko, which was supposed to completely switch to the BTR-4 a few years ago.
Let us remind you that earlier a scandal broke out in Ukraine concerning the production of the "newest" armored personnel carriers BTR-4E. As it turned out, the Kharkiv KBM purchased steel that did not correspond to a number of parameters for the creation of armored vehicles. As a result, it turned out that instead of Ukrainian-made steel for the creation of the BTR-4E, foreign steel was purchased according to a very intricate scheme. During the proceedings, it was established that the steel was not Ukrainian, but Finnish, and it went through a Polish company - "gasket".
After some time, it turned out that the subcontractor represented by the Lozovsky factory failed the order, having produced, instead of 48 armored personnel carriers, less than half - 20 units.
At the end of 2019, Ukroboronprom resumed work under this contract, however, in January 2020, a new scandal erupted: Lozovsky Forging and Mechanical Plant LLC supplied the first three armored hulls for the BTR-4E of a new batch to KMDB. All armored hulls came with defects - cracks and poor-quality welding were found on them. All new hulls were made using Ukrainian steel grade "71", which does not correspond to a number of parameters for the manufacture of armored hulls, but they were accepted by the 85th military representation of the Ministry of Defense of Ukraine
There were no reports that low-quality steel for the armored hulls of the BTR-4E was replaced with some other, more suitable one. Thus, it can be stated that the production of armored personnel carriers is still carried out from low-quality steel.