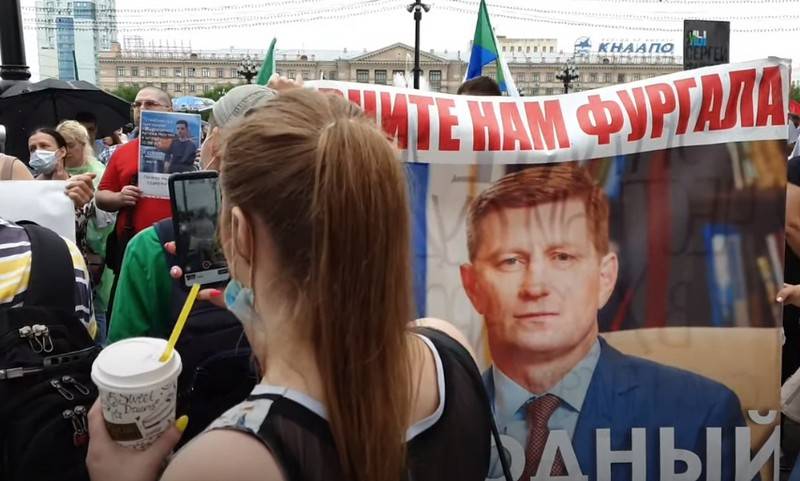 Another rally in support of the former governor of the Khabarovsk Territory Sergei Furgal, which began on Saturday, attracted half the number of participants than before. The press service of the city administration reports.
According to data published by the Khabarovsk administration, the number of activists is getting smaller every day. At the same time, it is noted that the bulk of people who come to the rallies behave peacefully, calls are heard only from the "initiative" group.
The number of activists continues to decline
- said in a message on the city portal.
This time, about 3,5 thousand people gathered in the square near the regional government, according to the Khabarovsk mayor's office. The protesters themselves said there were "significantly more" of them. The protesters gathered at the government building on Lenin Square, from where the procession began along the central streets of the city, which ended an hour later again on the square. The protesters continue to shout slogans, including: "I, we, Sergey Furgal!", "Furgal is our choice!", "Honest court in Khabarovsk!", "As long as we are united, we are invincible! And" Freedom! ".
The demonstrators themselves associate the decrease in the number of participants in the rallies with the decline of citizens' interest in what is happening, as well as the appearance of representatives of the so-called "non-systemic opposition" at the rallies, who use the rallies to achieve their own political goals.
According to the local residents themselves, among the protesters who most zealously advocate for the ex-governor, many nonresidents were noticed, whom the organizers bring from neighboring regions. It is reported about the participants in the actions delivered from Birobidzhan and Magadan. Cases of payment of money for participation in unauthorized actions have been noted.