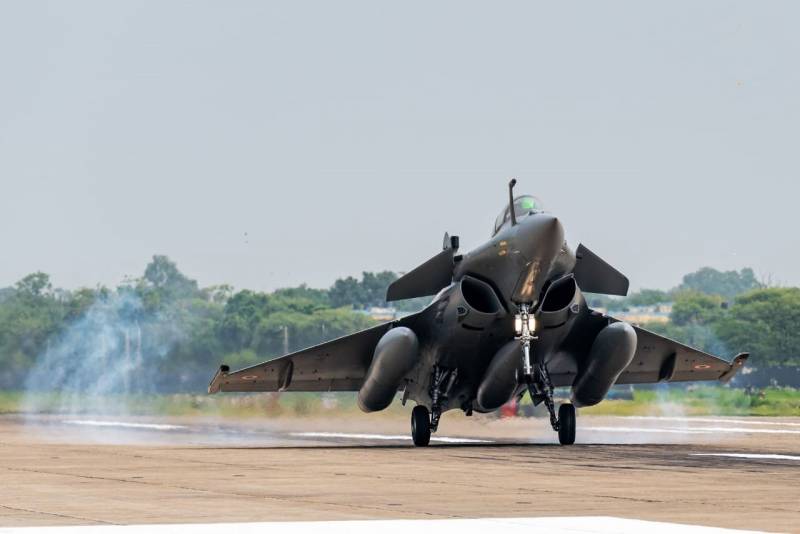 The Chinese edition of the Global Times published an article by military expert Zhang Xuifeng, who decided to assess the combat power of the French Rafale fighters received by India. According to the Chinese expert, in comparison with the J-20 fighters of the PLA Air Force, the Rafale fighters have a significant drawback - "they have no implemented stealth technology."
From the material in the Chinese media:
Rafale surpasses the Su-30MKI in some characteristics, but in any case, both of these aircraft belong to the 4th generation (the third according to the Chinese classification - approx. "VO"). If we compare the "Rafale" with the same Su-30MKI exactly by generations, then it has been advanced by about a quarter of a generation. But this does not give any significant changes.
Let us remind you that on July 29, India received 5 Rafale fighters. From France, they flew to the Ambala airbase of the Indian Air Force.
Zhang Xufeng:
Thanks to its AFAR radar, modern
arms
and the limited stealth technology of the Rafale, it is comparable to the aircraft of its generation used in India and other countries, but it will be very difficult for it to counter the fifth generation fighters with advanced stealth technology - the J-20.
In India, they could not help but respond to such a publication in the Chinese press. In particular, it is noted that some time ago, the Su-30MKI fighter discovered Chinese J-20s "with their vaunted stealth system."
Footage of the landing of Rafal fighters at Indian Air Force Base Ambala: