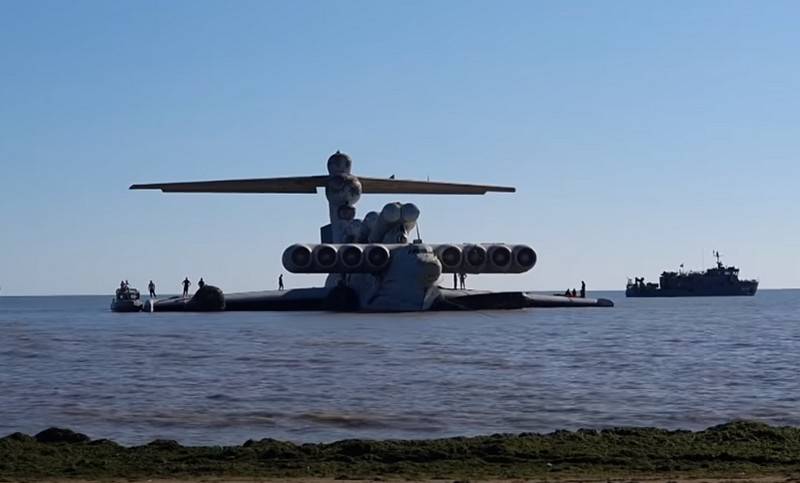 The world's only ekranoplan will no longer rust in its eternal parking lot in Kaspiysk. "Lun" in the last
stories
once went to the Caspian Sea for towing to Derbent, where he will become the main exhibit of the Patriot park under construction. According to the Ministry of Defense, the operation to transport the ekranoplan across the Caspian Sea took 14 hours.
The Russian military moved the only ekranoplan "Lun" from Kaspiysk to Derbent. The towing, which involved three tugs, three escort boats and forty servicemen, took 14 hours. The ekranoplan itself was supported on the water using rubber pontoons and pulled by tugs. Excavation work was required to bring the missile carrier ashore.
The incredible dimensions and technical characteristics of the ekranoplan made it a modern legend. "Lun" will become the center of the future "Patriot" park, where open history lessons, rallies of the "Youth Army" and other youth events will take place
- said the head of Derbent Khizri Abakarov.
Recall that the Lun ekranoplan was built in 1986, modifications and various types of tests took place until 1989, the ekranoplan was listed in the 236th battalion of the Caspian ekranoplane ships
flotilla
, however, since the beginning of the 90s, he did not make more flights, he was on the territory of the Dagdizel plant in Kaspiysk, where he rusted in the open air.
The length of the car is 73 meters, the wingspan is 44 meters. The speed reached 500 km / h, and the cruising range - up to 2000 km. The maximum take-off weight was 380 tons. Eight gas turbine engines NK-8 helped the flight. It is armed with six Soviet Moskit anti-ship missiles.