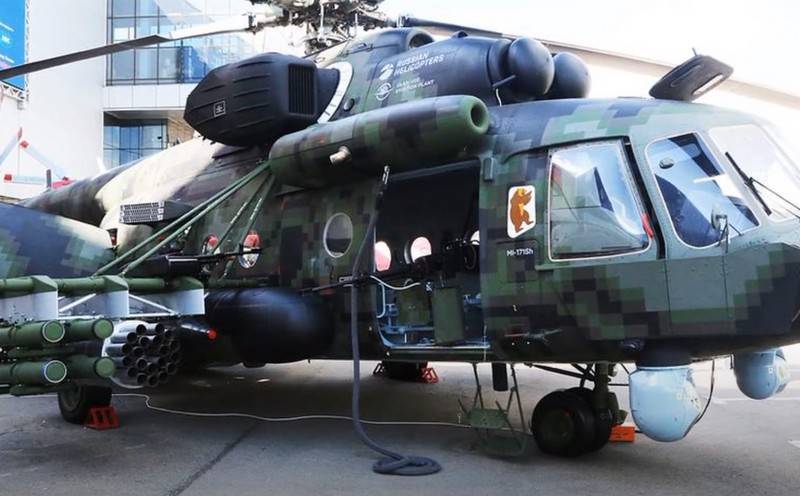 The Ministry of Defense intends to purchase a large batch of Mi-8AMTSh-VN attack transport helicopters. The vehicles will be used to equip special operations forces (MTR), said Andrey Boginsky, general director of Russian Helicopters.
According to Boginsky, the military plans to purchase a large batch of helicopters to equip the special forces, negotiations on this topic are underway. The general director of Russian Helicopters did not give any details of the new deal.
Earlier, the Russian department signed a contract for the supply of 10 Mi-8AMTSh-VN helicopters in modification for special operations forces (SSO). The agreement was signed within the framework of the Army-2019 international military forum.
At present, the Mi-8MTSh-VN transport and combat helicopter has entered the flight test stage; at the end of the year, two more flight models will join the flights.
The Mi-8AMTSh-VN helicopter is an improved version of the Mi-8/17 helicopter, created taking into account the Syrian experience. It is equipped with VK-2500-03 gas turbine engines with an upgraded transmission and improved climatic characteristics and a new carrier system. In addition, the helicopter was equipped with an updated armament, the main feature of which was the use of special suspension on the farms of two course machine guns of 12,7 mm caliber. The cockpit and main components of the helicopter are covered with titanium alloy armor, and the cockpit floor and sides up to the windows are covered with removable Kevlar armor.
A new flight and navigation equipment was installed on the helicopter. To increase the combat survivability, the principle of a combination of a "glass cabin" and reliable analog instruments has been applied. The machine is adapted for use at night.