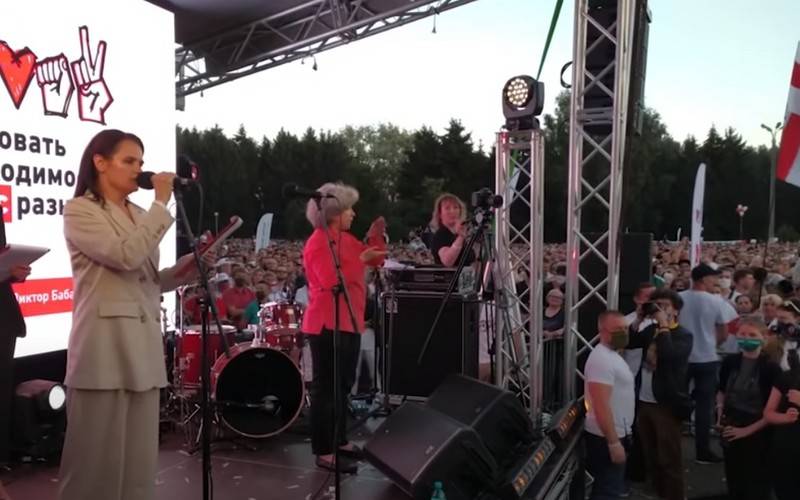 The largest campaign rally in support of the candidate for the presidency of Belarus Svetlana Tikhanovskaya was held in Minsk. The action was carried out with enhanced security measures.
The Belarusian opposition reports about the "most massive action" held in the Friendship of Peoples Park on Bangalore Square. Data on the number of participants differ, according to the most "modest" estimates, the action gathered 34 thousand participants, human rights activists say about 63 thousand Belarusians who came to the rally. Earlier, the organizers of the action announced their intention to "collect 75 thousand people."
Reportedly, the Belarusian authorities nevertheless fulfilled their threat by turning off the mobile Internet at the place of the rally.
Svetlana Tikhanovskaya, a candidate for the presidency of Belarus, speaking at the rally, emphasized that she is going to the presidency for the sake of her husband and Belarusians and her main goals are the release of political prisoners, the holding of new fair elections and a referendum on returning to the 1994 Constitution.
She summoned the incumbent President of Belarus Alexander Lukashenko to a one-on-one debate.
The action began at 18:00 and ended at 22:00, no violations were recorded, the meeting was held peacefully. The last unauthorized mass protests took place in the cities of Belarus on July 14 after the decision of the Central Election Commission of the republic to deny registration as presidential candidates to two politicians: ex-head of Belgazprombank Viktor Babariko and ex-head of the Hi-Tech Park administration Valery Tsepkalo. According to the Ministry of Internal Affairs of Belarus, all the protests were initiated from abroad.
The West gives different comments on the situation in Belarus before the presidential elections, although the main topics of publications are still "Lukashenka's dictatorship" and "non-free elections." According to many analysts, Lukashenka will not let other candidates win the presidential elections, somehow removing them from the list of candidates.
According to the Spanish newspaper El País, today the last "serious" opponent of the incumbent President Lukashenko is Svetlana Tikhanovskaya, a "simple housewife" supported by Veronica Tsepkalo and Maria Kolesnikova, the head of the campaign of former banker Viktor Babariko. It is this "trio" that can still "raise the people of Belarus", the rest of the candidates will not compete with the head of the republic.
The German media note that "the mass character of the rally in Minsk is Lukashenka's signal."
Recall that the presidential elections in Belarus are scheduled for August 9, 2020.