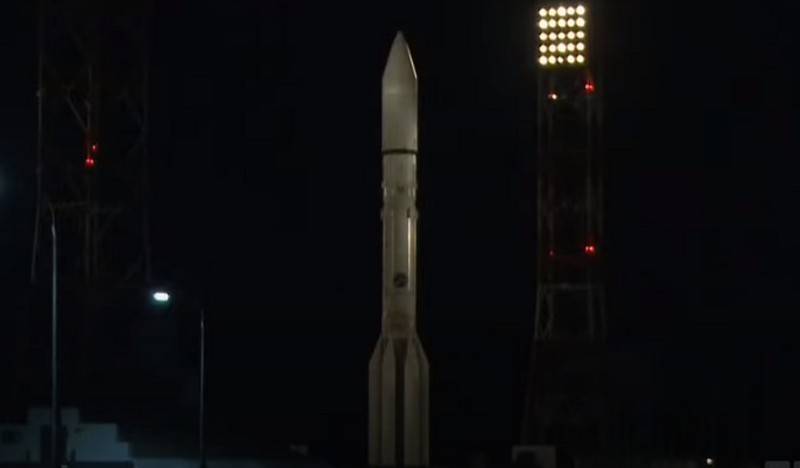 The Russian Proton-M launch vehicle, launched from the Baikonur cosmodrome, launched the Briz-M upper stage with the Express-80 and Express-103 telecommunication satellites into orbit. This was reported on the website of "Roscosmos".
The rocket was launched at 00:25 Moscow time. time from the launcher No. 39 of the site No. 200 of the Baikonur cosmodrome. The launch took place as usual. The rocket is supposed to launch Russian middle class telecommunications spacecraft into an intermediate orbit. At 00:35, the Briz-M upper stage separated from the third stage of the rocket, the launching of satellites into the target orbit with a minimum altitude of 16,6 thousand kilometers and a maximum of 54,9 thousand kilometers will be carried out due to the operation of the upper stage engines.
The first activation of the upper stage engine took place in the normal mode. The launch of satellites into the target orbit is planned at 18:00, separation of satellites from the upper stage at 18:24 and 18:41. Accordingly, Express-80 will be separated from the upper stage first, Express-103 will be the second. Since the capabilities of the rocket do not allow putting satellites into geostationary orbit, the satellites will independently reach it using their own electric jet engines. At the same time, Express-80 will spend 152 days for the entire journey, and Express-103 - 160 days. The commissioning of satellites is planned for January-February 2021.
According to Roskosmos, the rocket was launched on a reserve day. The launch was postponed from July 30 to July 31 for an additional check of components and assemblies due to remarks that arose when checking the control system of the upper stage "Briz-M".