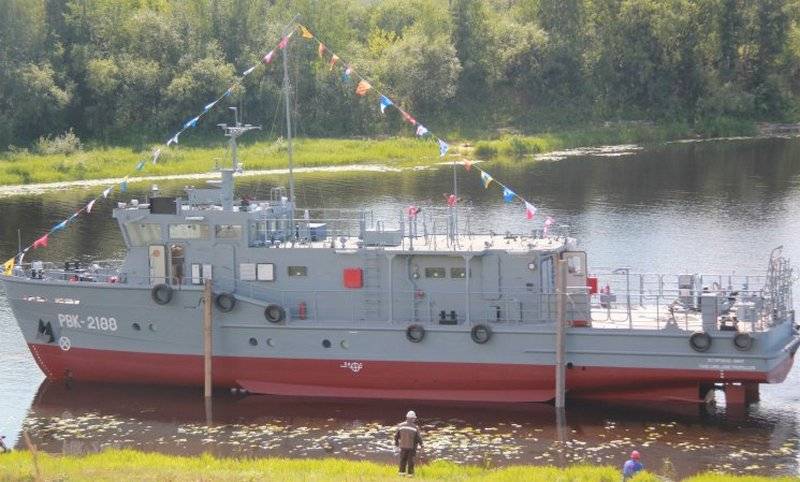 The Northern Fleet will soon receive the next Project 23040 harbor complex rescue boat. The launching ceremony of the boat took place at the Nizhegorodsky Teplokhod shipyard. The press service of the enterprise reports.
The launched boat was named in honor of Pavel Simonov, the first head of the department for lifting sunken ships in the North Sea and in the Murmansk region. After completion on the water, the boat will undergo the necessary mooring, sea and state tests, after which it will be transferred to the Navy. According to the plans of the enterprise, the boat should arrive at the Northern Fleet by October 25 this year.
The total displacement of the boats of the project 23040 is about 118 tons, the hull length is 28,09 meters, the width is 5,56 meters, the draft is 1,5 meters. The speed is about 13,7 knots. The crew is three people, as well as a diving group of five people. They have a high power-to-weight ratio and ice class, which allows them to work confidently on external roads and outside them at a distance of up to 50 miles from their bases. The boat is a further development of the A160 project series, as well as the ZT28D Pelican diving boat.
Diving boats of project 23040 have proven themselves as part of the Northern, Pacific, Baltic fleets and the Caspian
flotilla
... Along with the performance of diving operations at depths of up to 60 meters with sea waves of up to 3 points, the new generation is capable of performing search operations using a small-sized remote-controlled unmanned underwater vehicle and a towed sonar.
In addition, 23040 boats can effectively extinguish fires on ships and ships, floating and coastal facilities up to 30 meters, pump out water from an emergency ship and provide power to the ship or ship de-energized as a result of the accident.