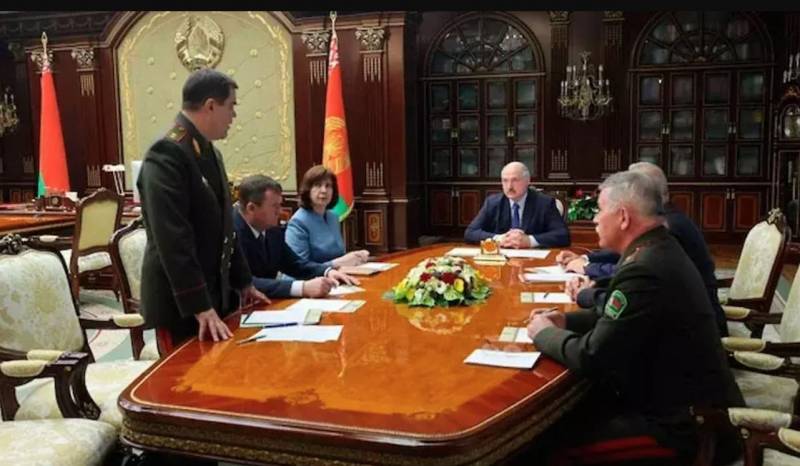 What is happening in Belarus causes ambivalent feelings. In general, what Lukashenka has been bringing a little stronger than usual lately seems to be even understandable and justified: the elections are just around the corner, alternative candidates were handed over and they were not allowed before the elections under various pretexts (everything is like people's, in general), but some sediment remained ...
And this sediment clearly does not allow to sit quietly and wait until 70% of the total number of those who came to the elections will vote correctly. We have already passed the constitution, we know how it is.
That is why statements on the theme that "the external enemy is not asleep" is normal. Of course, this very enemy is just waiting to spoil Lukashenka's election. Well, how else can you spoil them, if you do not send militants to the country, who will surely arrange riots on election day?
They say more than 200 have been sent. Who - don't say. Where they are is also not entirely clear.
The script is complete. Okay, we have it. We must implement.
History
with the arrest of 32 people in the boarding house does not look very nice. The only thing that sounded more or less sanely from the accusations was that "the newcomers wore uniform clothes in the style of" military "and did not drink alcohol."
Well, you know, brothers-Belarusians, this is too much. On the highest level. Moreover, performed by President Lukashenko. Well, according to indistinct leads the KGB of Belarus arrested three dozen ... three dozen whom?
Militants? Where then
weapon
? Terrorists? Where is the equipment and again weapons? Arrest only on the grounds that people did not get drunk in the style of "Russo tourist" and did not go to "dance" the local population - sorry, it is not we who look stupid, but Belarusians.
And, in general, Mr. Lukashenko first of all.
These are his passages on the topic of what is needed
"To appeal to the Russian media, including Telegram channels, so that, as Putin says, they do not drive the blizzard ..."
Sure, not a problem. But why should the Russian media drive a blizzard when there is such a competitor?
Another quote from Alexander Grigorievich.
"If they are guilty (Russia. - Author's note), we must get out of this situation with dignity. Not guilty - well, we have no goals to discredit the country close to us. "
I can't understand what the detainees were guilty of. That you are not drunk? Or is it that they have Russian passports?
I don't know how Lukashenka himself will adequately get out of this situation.
Take a close look at the video. It is clear that the guys are not entirely simple and understand a lot about equipment. But this is not a crime. And the presence of foreign currency is not a crime. Although condoms are, perhaps, yes, a suspicious thing.
However, these things do not at all indicate that these are PMC militants.
Zakhar Prilepin confirmed on his page that he recognized several former fighters of his former police battalion. Nothing like that, in general, former militias have long been gladly taken to various military and paramilitary structures. And in Syria, former militias have appeared on more than one occasion. This is normal practice.
"It has long been known that people who fought and are fighting in the armies of the DPR and LPR are fighting not only there. They also leave for Syria and other warm warring countries. But if the Belarusian leadership starts using this story for their own purposes, it will certainly look ridiculous. "
(Zakhar Prilepin.)
Difficult to add anything. But you can.
"The fact that three dozen men in camouflage were going in some other direction, and the Belarusian special services know very well, I am sure."
(Prilepin again.)
Yes, Belarus is not a country where you can hide something. Of course, rumors that there are 100 employees of the Ministry of Internal Affairs and other special services per 000 inhabitants of Belarus are, of course, an exaggeration. And this has been sorted out more than once. But the figure of 1-442 people per 800 seems real to me.
And the special services of the Republic of Belarus are very serious organizations. They have fairly wide networks of informants and surveillance. Actually, 32 detainees came into view in this way.
I am sure that "where necessary", they were absolutely aware of who drove into the boarding house. It would be strange to imagine Belarus with so many security officials as a gateway, a kind of transit station for transfer.
Belarusian media and bloggers are actively discussing two main versions of what is happening.
First: "PMCs should have been used against Lukashenka in the elections."
Second: "The Belarusian authorities are going to use information about PMCs for their own political purposes."
Both versions, in my opinion, do not stand up to criticism. PMCs from the Russian side in order to disrupt Lukashenka's elections - well, it looks completely frivolous. In order to arrange troubles for Alexander Grigorievich, it is not PMCs that are needed. There are enough elementary economic steps, as has been done more than once, and the situation becomes very, very unpleasant for Belarus.
The second ... The second is even more stupid. An external enemy, in the face of which the whole nation is obliged to unite, and every citizen who wishes his country well, will be obliged to vote for the only "correct" candidate - all of this is terribly familiar to us.
But Russia and Russian citizens somehow do not quite fit the image of an external enemy. Don't you? Russians? Belarusians? Alexander Grigorievich?
However, Alexander Grigorievich has already ... made a speech.
BELTA: President of Belarus Alexander Lukashenko demanded that Russia clarify the situation with the detention in the republic of fighters of the private military company (PMC) Wagner.
In my opinion, it is precisely Russia that should demand an explanation in connection with the detention of its citizens. Simply because these citizens were detained, let's say, for no particular reason. Let me emphasize that sobriety is not an aggravating circumstance in the whole world.
According to Lukashenko, he already sees the reaction of the Russians, who "somehow try to justify their dirty intentions." He also accused the Russian side of trying to distort the situation and present it as if Belarus itself brought PMC fighters.
I would not like to strain the situation and express myself very critically, but ... But what Mr. Lukashenka says, somehow does not attract an adequate perception. It is clear that Belarus is a totalitarian state, where it is not necessary to prove the guilt of the detainees. But should there be at least minimal attempts for justice?
Our reaction is really predictable. The actions of our Foreign Ministry should also be somewhat more significant than the babble of the Russian ambassador to Belarus about the fact that he is not in the know. Employees of PMCs, not employees of PMCs - first of all, they are Russians who have not violated a single law of the Republic of Belarus. Even if they were traveling in transit somewhere else. Even if they did not drink a single gram, they caused damage to the budget of the Republic of Belarus.
Alexander Grigorievich should still think about how useful the relations of the two countries, which sometimes are unreasonably complicated by the will of his throwing, will benefit from such "operations".