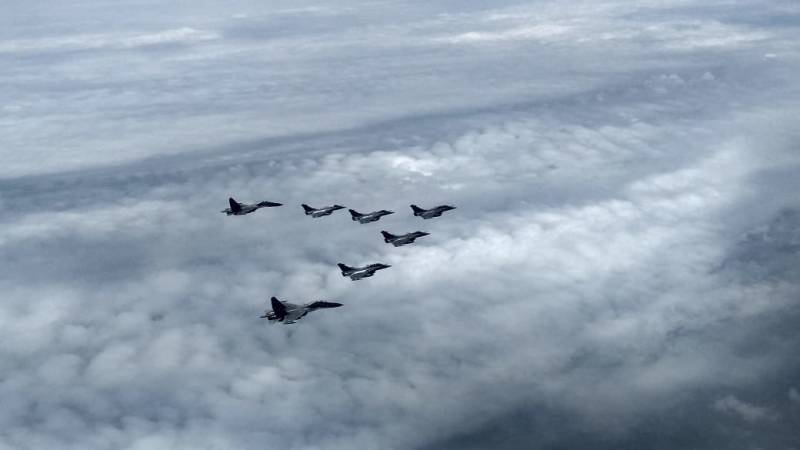 In India, celebrations are being held to mark the meeting of the five Rafale fighters, which flew out of France the day before yesterday and proceeded through the Al-Dhafra military base in the United Arab Emirates. During their stay in the UAE, French-made fighters in India were closely watching the rocket fires of Iran, which it conducted in the Strait of Hormuz. The target of the Iranian missiles was a model of the American Nimitz-class aircraft carrier, created in Bandar Abbas.
Indian Defense Minister Rajnat Singh said that when Rafale entered Indian airspace, a pair of Indian Air Force Su-30MKI fighters took them to escort. The planes flew to the Ambala airbase in a general air formation.
The minister has tweeted the appearance of the Rafals in Indian airspace, as well as their landing at the above Indian air base.
Ambala is an Indian Air Force base located in the city of the same name in the state of Haryana in the north of the country.
The five Rafales escorted by 02 SU30 MKIs as they enter the Indian air space.@IAF_MCC pic.twitter.com/djpt16OqVd

- रक्षा मंत्री कार्यालय / RMO India (@DefenceMinIndia) July 29th, 2020
The Touchdown of Rafale at Ambala. pic.twitter.com/e3OFQa1bZY

- Rajnath Singh (@rajnathsingh) July 29th, 2020
A welcoming radiogram to the Rafale pilots was also transmitted from the Indian Navy INS Kolkata (destroyer Kolkata).
Earlier in the Indian press, statements appeared that by the end of the week the Rafal fighters could be redeployed to Ladakh, where tensions have recently risen against the backdrop of a clash between the military of India and China.