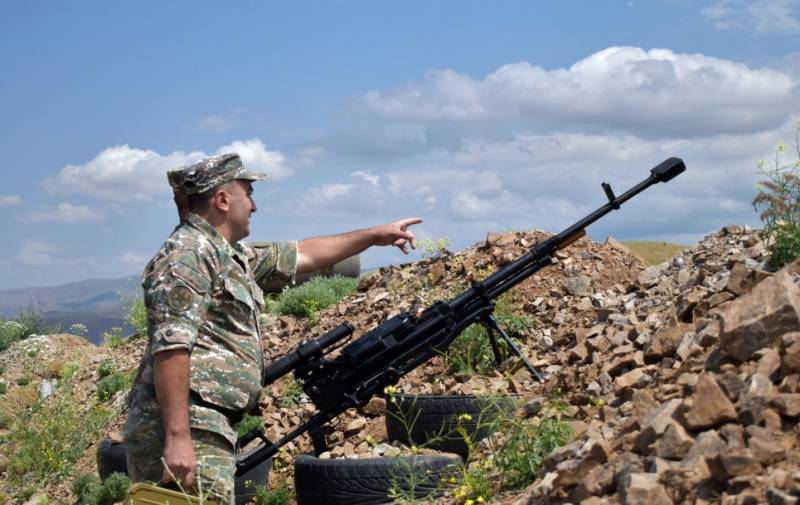 On the Italian resource Analisi Difesa, which specializes in military topics, a rather lengthy article "Who is the director ..." was published, dedicated to the Armenian-Azerbaijani conflict. The course of the long-standing confrontation, the aspect ratio and, most interestingly, the geopolitical background of the battles that have flared up again, are described, according to the Italian observer.
South prosecutors
The author points out that unlike Moscow, which showed caution, the head of Turkey, Rajep Erdogan, immediately expressed his solidarity with Baku, saying that "he will never leave Azerbaijan in a possible conflict with Armenia." The aggravation of the situation on the southern flank of the "Russian world" is beneficial to Ankara, since it intends to show its strength and induce the Kremlin to be more compliant on the Libyan issue.
Clashes [in the Caucasus] break out exactly at the moment when Turkey's intervention in this African country [...] has moved to a level where the "sultan" cannot retreat without losing face
- writes the author of the material M. Molteni, pointing out that "it is no coincidence that the Azerbaijani military were the first to open fire." True, the Ministry of Defense of Azerbaijan has a completely different version.
According to the author, the involvement of Egypt in the Libyan conflict forces Erdogan to look for ways to weaken the pressure:
Try to get at least the Russians out of the game, forcing them to plunge into the Armenian party [...] Show the Russians that the Turks are a "prosecutor" in their southern direction, which must be reckoned with
- the author notes, pointing out that the formation of this opinion was influenced by Armenian sources, in particular, diplomatic workers in Italy.
It's all about the gas
At the same time, the caution shown by the Kremlin is fully justified. Despite the fact that Armenia is an officially recognized ally (through the CSTO), Russia is linked with Azerbaijan by close economic, military-technical, infrastructural and
historical
communication. At the same time, they are negatively influenced by the tendencies of "neo-Ottomanism," which include Baku in the orbit of Ankara's influence.
However, this caution does not prevent us from acting behind the scenes. As Azerbaijani diplomats in Italy explain, Armenia's actions are aimed at disrupting the supply of hydrocarbons through the "pipes" going to Europe.
It is no coincidence that Armenia initiated a military operation against Azerbaijan three months before the start of gas supplies from Azerbaijan to Europe, including Italy.
- explained the representative of Baku in Rome.
At the same time, the author of the material believes that Yerevan itself would not take such measures on its own - disruption of the supply of "blue fuel" to the EU is beneficial, in his opinion, primarily to Russia.