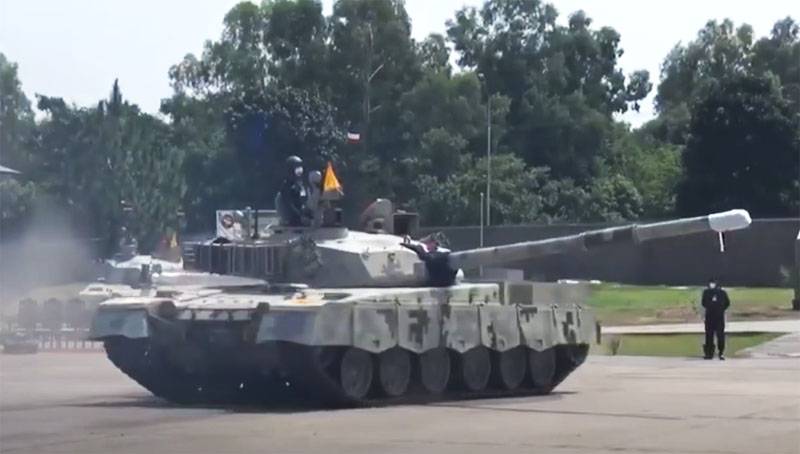 A solemn ceremony of transferring the upgraded version from the factory to the troops took place in Pakistan
tank
Al-Khalid. We are talking about the "Al-Khalid-1" version, which, as stated, is intended to replace the tanks of the previous version.
Al-Khalid-1 is a development of the Sino-Pakistani MBT-2000 main battle tank.
The ceremony took place at Heavy Industries Texila (HIT), a Pakistani state defense enterprise. The tanks were received by the representative of the Ministry of Defense of the country, General Qamar Javad Bajwa, according to whom, the new tank will give "additional opportunities for the Pakistani army to repel aggression on land."
General Bajwa:
Al-Khalid-1 can play a decisive role in a military conflict.
According to the representative of the Ministry of Defense, it is extremely important for Pakistan to develop its own production of armored vehicles, to follow the path of improving technologies.
Bajwa:
In case of any provocation, our army is ready to respond.
The Indian press has already noted that the Pakistani general "made threats."
The Al-Khalid-1 tank, like its predecessor, has a 125 mm cannon with up to 40 rounds of ammunition. The main difference between the upgraded tank and Al-Khalid is the presence of multiple on-board electronic options, including screens with multiple cameras. "Al-Khalid-1" has an increased range of at least 50 km. According to some reports, it has a new engine with a capacity of about 1280 hp. Updated fire control system.
Pakistani notes that at one time the creation of this line of tanks began with the work of a joint Pakistani-Chinese-Ukrainian enterprise. That is why Al-Khalid has a certain similarity with the T-84.