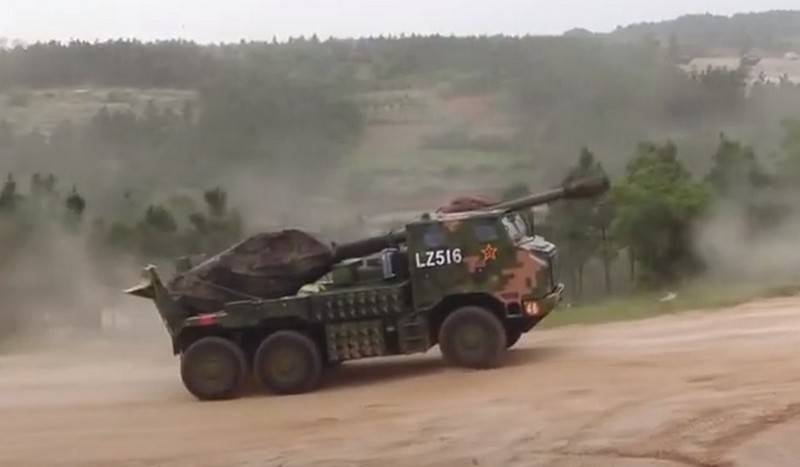 For the PRC, the corona crisis ended with a tightening of foreign policy, which was accompanied by an intensification of the process of modernizing the army. One of the most significant manifestations of the transformation of the ground forces is the transition to the new PCL-181 self-propelled howitzer.
According to the Chinese media, the new product is intended to replace the outdated 152-mm and 130-mm towed guns.
Given the organizational size of the PLA, it retains significant stocks of obsolete
weapons
, but the work of the military-industrial complex is able to change this situation for several years
- considers the edition 21AAR.
In his words, equipping entire brigades with a 155-mm self-propelled howitzer "will result in a huge increase in firepower."
The existence of PCL-181 has been known for the past few years. Since then, some details of the product have been revealed. The howitzer has a hydraulic loading system that automatically places the explosive and the projectile into the breech. The control panel is located on the left wheel arch at the rear of the truck. The calculation is 5 people. Judging by the photographs, 36 barrels are attributed to the mechanized brigade. The battery contains 6 guns.
Chinese media have argued that the transition from towed artillery to a self-propelled howitzer is driven by three reasons.
First, it takes less time to move and deploy to fire, which takes only three minutes. Secondly, each howitzer has its own magazine, which is located in a compartment behind the armored cabin, ammunition is stored in sealed containers. This eliminates the need to accompany the TPM weapon. Third, the PCL-181 weighs only 25 tons, making it suitable for air transport.
It is safe to assume that hundreds of PCL-181s are currently in service with the PLA. This is a noticeable advantage over rivals in the APR, who have practically nothing to replace their outdated artillery systems.
- concludes 21AAR.