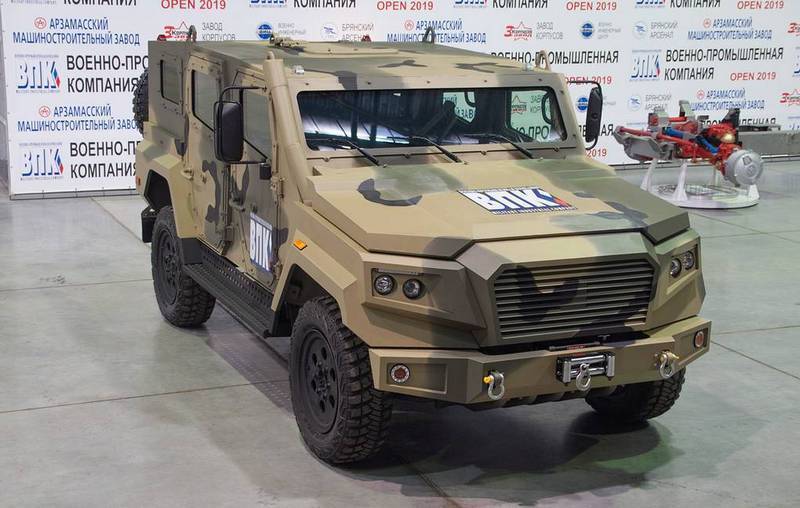 The Military Industrial Company (MIC), which has developed a new family of armored vehicles "VPK-Strela", will present a floating version of the new armored car at the international military-technical forum "Army-2020". This was reported by "RG" with reference to the press service of the military-industrial complex.
The presentation of the floating modification of the new Strela armored vehicle will take place within the framework of the Army-2020 forum. It is planned that following the results of the show, a decision will be made on the future fate of the armored car. The option of adopting a new vehicle for service with the Russian army in the class of light armored vehicles is not excluded.
As previously stated in the military-industrial complex, the company has proactively developed a family of light armored vehicles "VPK-Strela", which can be transported on the external sling of a Mi-8 helicopter.
It is explained that the new armored car is designed to transport people and various cargoes with the required level of armor protection. The machine can be used in various qualities, taking into account the tasks. It is possible to install various equipment and weapons on it.
The gross vehicle weight is only 4,7 tons, while the armor provides class 2 ballistic protection. Mine protection provides protection for the crew in the event of detonation under the wheel of explosive devices up to 2 kg in TNT equivalent.
Max. highway speed - up to 155 km / h, capacity - up to 8 people. The design of the machine is based on promising 100% Russian units, components and parts, planned for development in the mass production of the domestic auto industry.