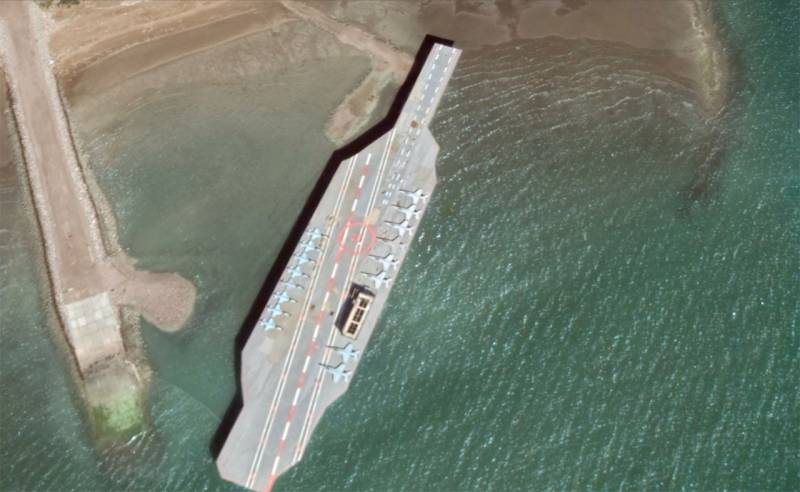 Photo by Google Earth
American satellites took a photo of a section of the Iranian coast, which was captured by the aircraft carrier. It is reportedly about an imitation of a US Navy aircraft carrier. The model of the aircraft carrier by Iran was created to carry out exercises, during which a missile strike on a large warship that poses a threat can be practiced.
Previously, Iran had already conducted exercises of this kind. So, about five years ago, Iranian troops destroyed a previously created model of an aircraft carrier of the US Navy using missiles and artillery installations. During combat training maneuvers, the Iranians used the so-called mosquito tactics
fleet
, attacking the "aircraft carrier" with several high-speed boats.
According to US media estimates, based on data from satellites, the copy of the aircraft carrier, created by Iran, has the following dimensions: about 200 meters long and 45-50 meters wide.
The model aircraft carrier was towed to the area of ​​the Strait of Hormuz, a strategic waterway through which a large traffic of oil products is carried out. Initially, the model of the ship was located in the area of ​​the port of Bandar Abbas.
On board the imitation of the Nimitz-class aircraft carrier, the Iranians placed 16 copies of carrier-based fighters, some of which are similar to the F / A-18.
The United States of America reacted by calling the Iranian actions "blatant provocation." The American press adds that the preparation of the imitation of the US Navy aircraft carrier Iran "represents as a signal to Washington."