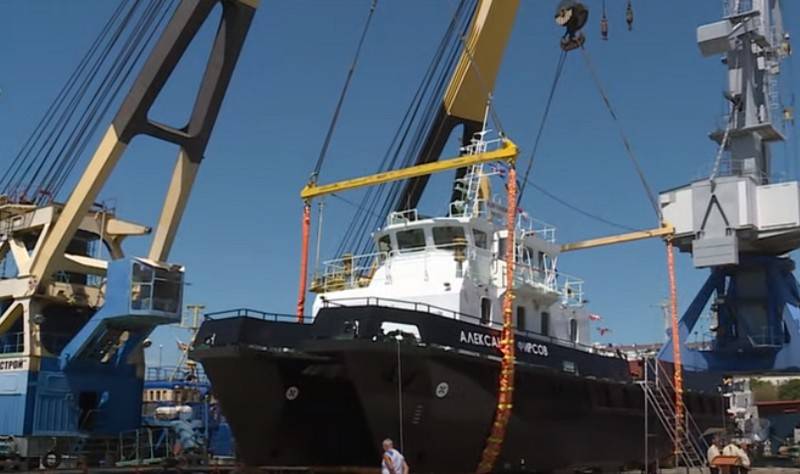 The first serial large hydrographic catamaran of project 23370G "Alexander Firsov" was launched in Crimea. The ceremony took place at the Sevastopol Marine Plant, where the boat was being completed. This was reported by the press service of the developer and manufacturer of boats "KAMPO" (Moscow region).
After launching, the boat will pass the required mooring, sea and state tests, after which it will be transferred to the Russian Navy. The transfer of the boat to the customer is scheduled for October this year. It will become part of the hydrographic service of the Black Sea
fleet
.
As previously reported, the boat itself was built at the KAMPO enterprise in Orekhovo-Zuevo, after which it was delivered to the Sevastopol Marine Plant for final assembly on July 8.
BGK "Alexander Firsov" was founded in August 2019. He is the second in the series and the first production after the head boat Mikhail Kazansky, which became part of the Baltic Fleet in December last year. The boat is named after the hydrograph - captain-lieutenant Alexander Firsov, who served in the Great Patriotic War.
Vessels of the 23370G project are designed for pilotage and hydrographic work, setting (shooting) and servicing floating warning signs, delivery of maintenance personnel, repair crews, food, fuel and other cargo to coastal facilities, including those located on an unequipped coast. Boats have the ability to quickly measure depths with the use of an echo sounder in places where floating signs are placed.
The modular hydrographic boats of the catamaran type of the 23370Г project are the new version of the multipurpose vessels of the 23370М project. The displacement of the boat is about 140 tons. Boats are built in the interests of the Navigation and Oceanography Directorate of the Ministry of Defense of the Russian Federation for use by the hydrographic service of the Russian Navy.