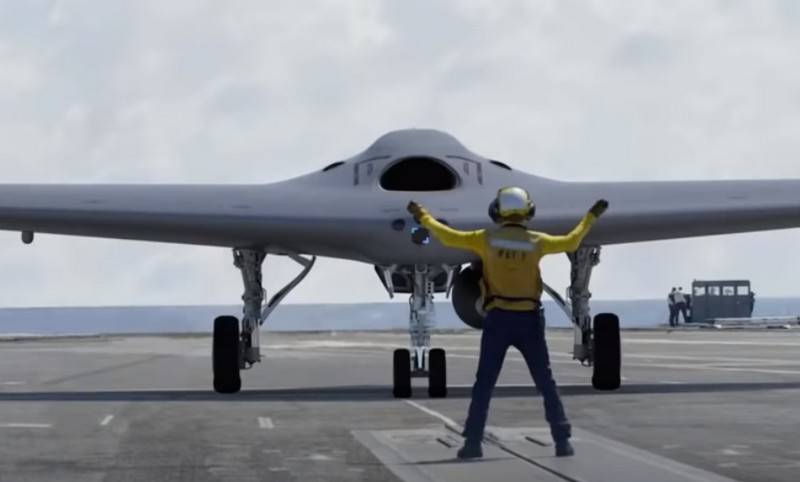 The American MQ-25 Stingray deck drone received refueling equipment. It is reported by Defense News.
Boeing has installed the refueling equipment, which is an overhead container with a hose-cone system, on the MQ-25 Stingray drone. The container is mounted on a pylon under the left wing console. Currently, the installed equipment and on-board systems of the drone are being checked. The flight tests are scheduled to begin this fall.
At the first stage of flight tests, the effect of the suspended container on the aerodynamic and maneuverable characteristics of the drone will be tested. Tests with refueling of other aircraft will take place later, but also this fall.
In 2018, Boeing won a $ 805 million contract for the construction of the first four copies of the MQ-25A. The basis for the development of the new apparatus was the secret prototype X-47, which was created in the framework of the subsequently canceled project. Initially, the Navy command planned to adopt an unmanned stealth bomber, which could deliver bombing attacks, while remaining invisible to air defense systems. The project was named RAQ-25. In 2016, the U.S. Navy formulated new requirements for a deck-based drone, changing its main purpose. The project was renamed the MQ-25 Stingray and redesigned as an unmanned tanker. At the same time, the military command refused the stealth characteristics of the aircraft, and also removed the ability to carry weapons from the requirements.
On April 2, 2020, the U.S. Navy entered into an additional contract with Boeing for the supply of another 3 drones MQ-25A. All will be used in demonstration and evaluation trials.
The US Navy plans to purchase 72 Stingray units, allocating a total of about 13 billion dollars for their purchase. This will ease the load on the fleet F / A-18F Super Hornet, refueling other aircraft. The Pentagon intends to put into operation the first drone MQ-25A in 2024.