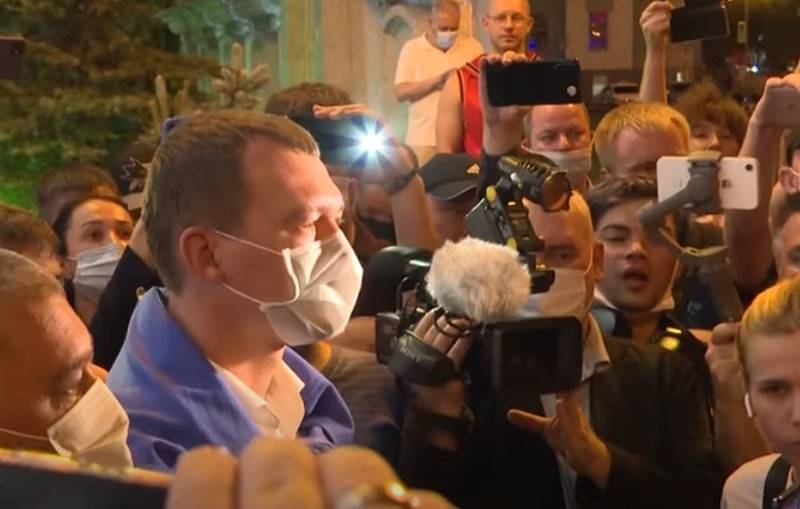 Acting Governor of the Khabarovsk Territory Mikhail Degtyarev, who came out to the protesters and talked to them on Saturday evening, asked to stop the actions in support of the former head of the region Sergei Furgal. Apparently, not everyone liked this, and accusations have already appeared in the regional media and the Network that Degtyarev communicated not with the protesters, but with dummies.
According to local media reports, Degtyarev drove up to the government building of the Khabarovsk Territory after ten o'clock in the evening and immediately went to the people demonstrating in the square. At the same time, the acting governor refused to communicate with journalists, saying that he would like to talk to ordinary people.
However, Degtyarev's desire was perceived by some of the protesters with suspicion, because the Khabarovsk residents "had already dispersed," and only employees of the "E" center were allegedly on the square. It was also stated that more than half of the people who were in the square had not appeared at the rallies before.
They did not carry posters, did not chant words. It was striking that they were here for the first time
- one of the "permanent" participants in the rallies lamented.
According to him, it was with them that Degtyarev preferred to communicate.
Between there, the interim governor asked the protesters to stop the actions in support of Furgal, explaining that the fate of the former head of the region is in the hands of justice. He also refused to lead the "protest movement".
And I urge you to finish this. The fate of Sergei Ivanovich (Furgala - approx. "VO") is in the hands of justice. The party helps him. (...) Moscow heard you, it sees everything perfectly, the country is watching everything. I will urge you not to hold rallies that were not coordinated during the restrictions due to the spread of coronavirus infection. This is my position, there can be no other
- he said.
Degtyarev also expressed doubts about the reliability of some media outlets on the number of protesters, stating that in some cases their (number) is multiplied by ten.
Recall that Degtyarev's meeting with the participants in the uncoordinated actions took place immediately after his return from his working trip to the regions of the region.