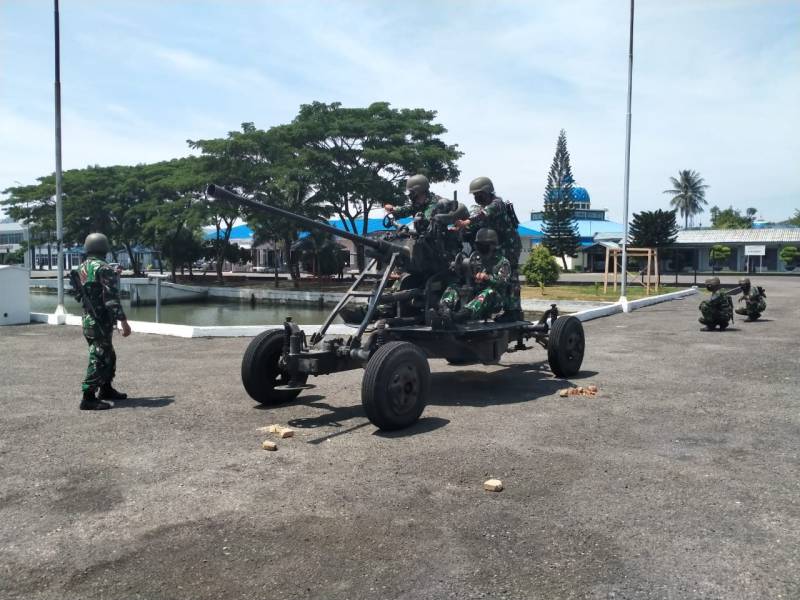 On the northeast coast of Sumatra, the Indonesian marines conducted exercises aimed at improving the combat skills of personnel.
In general, the routine course of maneuvers was "decorated" with one of the "relics" of the pre-war era - the 37-mm automatic anti-aircraft gun М1939 (61-К). This product was actively used by the Red Army throughout the Second World War. In the Wehrmacht, which used the captured
weapons
, it received an index of 3,7 cm Flak 39 (r).
Several types of weapons were developed, which were installed on ships and self-propelled ground vehicles, in particular on the ZSU-57. The standard production of 61-K was discontinued in 1945. In Russia, you can now find it at exhibitions or as monuments.
М1939 continues to be in the ranks of a number of the world's armed forces. Indonesia is one of the "havens" for the Soviet anti-aircraft guns.
Many Marine Corps units use a 1939mm M37 cannon [...] In one exercise, Yonmarkhanlan I [one of the battalions] used a 37mm cannon to paralyze enemy air attacks
- writes the publication Defense Studies.
The relevant materials were posted by the Indonesian ILC.