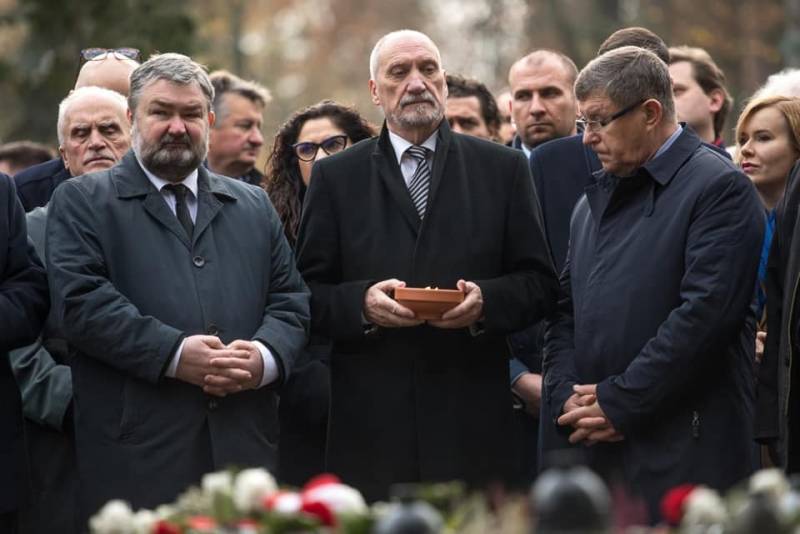 People in Poland have already begun to forget who Antoni Macerevich is. But this man decided to remind about himself. We should remind our readers that Macerevich is a former Minister of Defense of Poland, after his resignation, appointed head of the subcommittee to investigate the causes of the Tu-154 plane crash near Smolensk. Then the President of Poland with his wife and dozens of representatives of the country's top leadership were on board the liner. No one survived.
The investigation, the results of which was confirmed by the Polish side itself a few years ago, showed that the cause of the disaster was poor travel conditions against the background of several additional factors. For example, there was a drunken general in the cockpit, who actually put pressure on the pilots, literally forcing them to land at the Smolensk Severny airfield, despite recommendations from the controllers to leave for an alternate airfield.
Then in Poland they decided to challenge these conclusions. Macerevich was put in charge of a new investigation. Exhumation of the remains of the President's body and his wife was carried out. This procedure did not give any sensations, so Macerevich decided to start writing. According to him, "traces of explosives were found on the internal surfaces of the aircraft in Polish laboratories."
Macerevich on the air of the Polish TV channel:
On the inside of the plane's skin were traces of not only TNT, but also RDX, a material that has been and is being used by various leftist and post-communist terrorists, including in the attack on the London Underground or in the destruction of houses before the Second Chechen War.
Matserevich:
It couldn't have been an accident. Someone wanted to eliminate the Polish elite.
At the same time, Mr. Matserevich does not answer the main questions: from which country did the number one board fly, which country's special services, on duty, must check every square centimeter to ensure the safe flight of the first persons of Poland? If the plane was literally stuffed, as the ex-Minister of Defense is trying to convince everyone, then Macerevich in this case should name the customers in Poland itself. At the same time, the question arises: why, in this case, the representatives of the Polish investigation have not previously found any "traces of TNT and RDX"?
And here is how the readers of the Polish media reacted to the statements of Macerevich, who is called "Antek" (from the full name of Antoni).
Zenon Nowakowski
Antek, you are so insane that no one even laughs at you.
Dariusz Ciepielski
Antek, well, find the kamikaze who planted the explosive device on the presidential plane
Let's remind that earlier Macerevich claimed that "the explosives could have been planted during the maintenance of the aircraft in Russia." In Russia itself, these statements were called absurd, since all the works were eventually accepted by the Polish side.