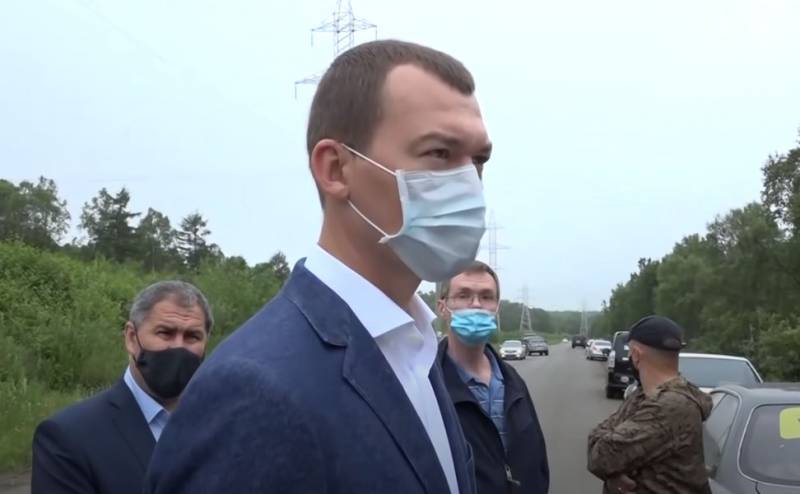 Acting Governor of the Khabarovsk Territory Mikhail Degtyarev met with participants in a car protest in support of the former head of the region, Sergei Furgal. He stated that he shares the position of the protesters, but supports a civilized dialogue.
This was reported today by the press service of the government of the Khabarovsk Territory.
Degtyarev:
Are you from the Liberal Democratic Party? Not? And I - yes. And as I was cut by his (Furgala's) arrest, no one will hand over to you.
To this Degtyarev was answered with the phrase: "We need actions, not words."
Degtyarev believes that for a normal dialogue, its participants must hear each other:
Here I can talk to you - there are several dozen of you here. You can hear me, I can hear you.
He drew the protesters' attention that now the Khabarovsk Territory was left without a leader. But the region is on the verge of the beginning of the school year and the onset of winter:
Think - the edge is decapitated. My task as an interim is to establish all the processes. That's my whole mission.
Degtyarev also assured the protesters that the Liberal Democratic Party, of which he is a member, will provide the necessary support to Sergei Furgal. He also invited the activists to join the People's Council under the interim head of the region, whose task will include discussing sensitive topics and finding solutions to the region's problems.
The conversation of the interim head of the Khabarovsk Territory with the protesters was allegedly spontaneous. Having met a column of motorists on the highway, Degtyarev decided to stop and get out of the car to talk to people.