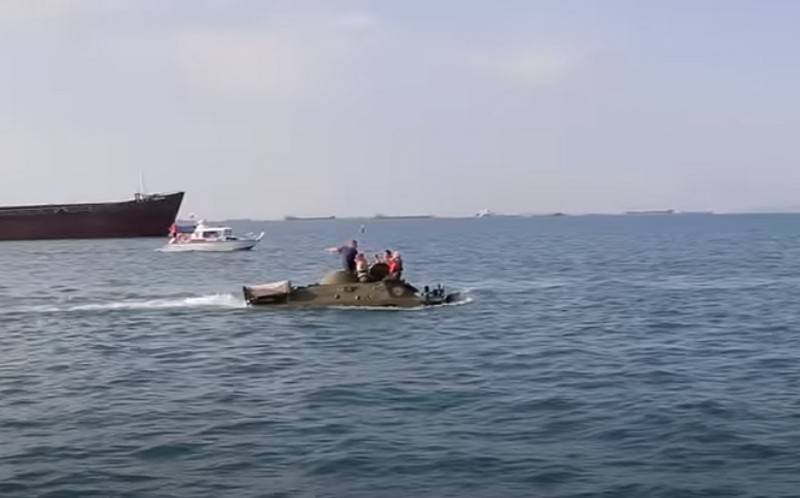 As part of the patriotic action taking place today, dedicated to the Kerch-Eltigen landing of 1943, one of the three armored cars sank while crossing the Kerch Strait, said the organizer representative Sergei Chernakov.
According to him, during the crossing of the gulf, one of the three BRDM-2, which participated in the action, sank. The crew of the armored car in the amount of five people was evacuated, there were no casualties or injured. The cause of the incident was a strong side wind and the exit of the car to a section with a strong current due to the difference in depth. The BRDM was located five kilometers from the coast. Two other armored cars safely reached the Taman coast.
BRDM-2 sank, there were no casualties, the crew was evacuated to the boat. Water began to flow into the BRDM-2, the standard vehicle rescue systems worked and pumped out water. However, she did it too quickly. Thanks to the prompt actions of the Ministry of Emergency Situations, it was possible to quickly evacuate the entire crew of five people, there was no threat to people's lives, because there was a boat nearby
- said in a statement.
After the crew was evacuated, an attempt was made to save the car, but the water flow could not be stopped. Currently, the issue of lifting equipment from the bottom and delivering it to the shore is being resolved.
The action "Road of Courage. Kerch Landing", dedicated to the Kerch-Eltigen landing of 1943, has been held in Crimea since 2017, as part of it, armored vehicles overcome the 15-kilometer distance between Taman and Crimea through the Kerch Strait.