The United States has once again accused Russia of finding Russian mercenaries from Wagner PMCs in Libya. As proof, the African Command of the US Armed Forces (AFRICOM) provided satellite imagery, allegedly filmed in Libyan territory. This is reported on the AFRICOM Twitter account.
The blurry images presented by AFRICOM at a briefing show military equipment allegedly belonging to the Russian PMC Wagner. The Americans are convinced that these pictures prove the fact that Moscow is supplying Russian mercenaries who are fighting in Libya on the side of Haftar's LNA.
The satellite imagery reportedly shows the positions of Russian mercenaries in Sirte and the Al-Khadim airbase near Benghazi. In the photo, the US military made out Tiger armored vehicles, Pantsir-S1 air defense missile systems, Il-76 military transport aircraft and Su-24 front-line bombers.
Russia continues to play a useless role in Libya, supplying materials and equipment to the Wagner group
- says AFRICOM.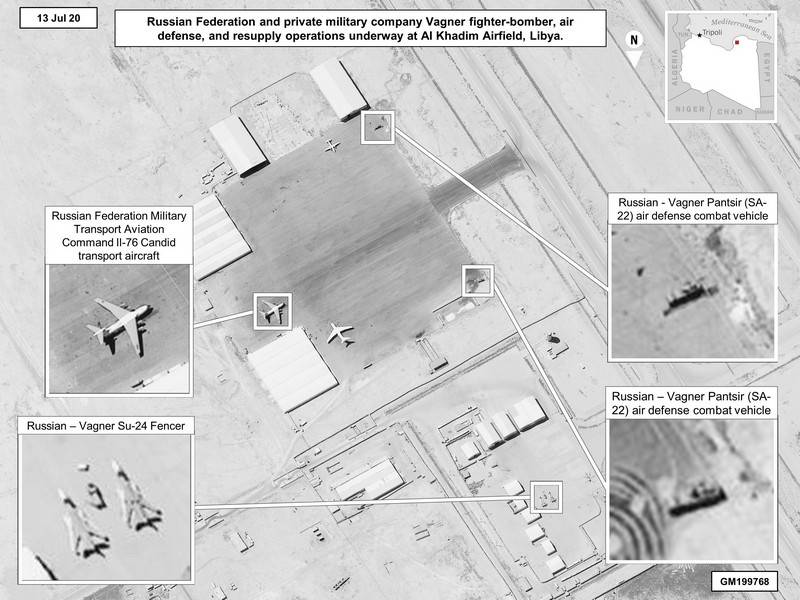 At a briefing on the images, AFRICOM's Chief of Operations, Marine Corps Brigadier General Bradford Goering, said the types and quantities of equipment presented "demonstrate an intention to use capabilities for offensive warfare rather than for humanitarian assistance."
It is not reported how the general could determine this from the blurred images.