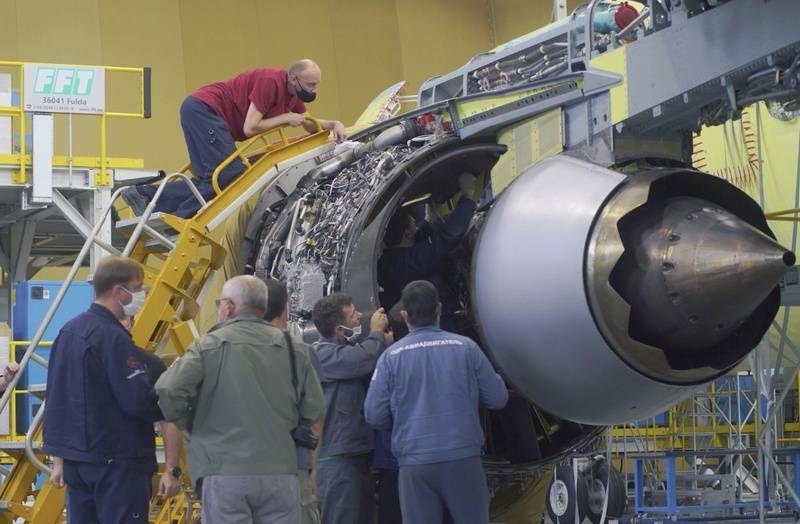 The newest Russian
aviation
PD-14 engines were first installed on the MC-21-310 prototype aircraft. The successful completion of the technological unit was announced by the press service of the state corporation "Rostec".
According to the report, the attachment of PD-14 engines was carried out at the Irkutsk Aviation Plant, a branch of the Irkut corporation. During the installation, the correctness of the design solutions incorporated into the engines was confirmed.
The first - mock-up - attachment of new engines to the aircraft was successful: PD-14 without any remarks "stood" on the pylons of MS-21. In addition, bonnet flaps and reversing devices were installed.
- said the representative of the customer support department of the company "UEC-Perm Motors" Ivan Mikhailov.
As explained, according to the results of the first hitch of engines, adjustments are made to the structural elements of the engine and airframe. At the same time, systems are being installed on the MC-21-310 aircraft in the final assembly shop. After the completion of all work, the PD-14 propulsion systems will be installed on a prototype aircraft for ground and flight tests.
PD-14 is the first completely Russian turbofan engine for civil aviation since the 1980s, developed taking into account international norms and requirements. The engine was created using the latest technologies and materials to ensure modern performance and a high level of environmental friendliness. The new by-pass twin-shaft engine can develop up to 14 tons of thrust in take-off mode.
MS-21-300 is a new generation short- and medium-haul passenger aircraft with a capacity of 150 to 211 passengers. Certification of the aircraft should be completed this year, and mass production is scheduled for 2021.