Historical
photograph taken in April 1988. Author on the land allocated to the Penza Polytechnic Institute for summer cottages
The truck turned into a dacha village and stopped in front of a small, ivy-covered dacha. The chauffeur and his assistant threw down the sides and began to unload things, while Olga opened the glazed terrace. A large neglected garden was visible from here. In the back of the garden was a clumsy two-story shed, and a small red flag fluttered over the roof of this shed. Olga returned to the car. Here a lively old woman jumped up to her - it was a neighbor, a milkmaid. She volunteered to clean up the cottage, wash the windows, floors and walls.
A. Gaidar. Timur and his team
History and documents.
It is summer now. It is hot and periodically thunderstorms. Sometimes it is very hot, more than 37 degrees, though not everywhere. And those people who did not go to the beaches in Sochi and Anapa and do not spend their days at their work, rest and work, of course, at their dachas. Or, at least, they go there on Saturday and Sunday. Or, like pensioners, they live there all the time. Save themselves! So I visit my dacha quite often and for a very long time. And then I thought: "After all, we have here, on" VO ", a series of memoir articles" Back to the USSR ". And if so, then why limit, for example, only food and clothing, and why not remember about the dacha? " No sooner said than done! And today we will have just material on this topic. Not a fundamental study with data from the State Statistics Service - God forbid! Not a "dissertation" with numbers and percentages, but simply ... memories of one person that he knew about summer cottages in the USSR era, what he saw summer cottages, his first cottage, and quite a bit about the second one today. There are few documentary photographs from that distant time, but they are. And all the others are placed here primarily for the sake of beauty. After all, it is beauty, as they say, that will save the world!
* * *
And it so happened that, living in a big old house, which had a really huge yard and garden, I somehow did not even think that there could be some kind of dacha. For me it was an empty phrase. Probably, I first learned about the fact that this happens from Gaidar's story "Timur and His Team", and saw in the same movie, and, perhaps, in the 1940 movie "Hearts of Four." There were shown beautiful dachas near Moscow, and when I read Gorky's "Dachniki" already in high school, this was exactly their dacha I imagined. However, already in 1966 this work was filmed, so a picture was added to the text. True, I got acquainted with the products from the dacha back in 1961. Then my mother took me to see Leningrad to a relative-general. We lived in his apartment, while his whole family left for the whole summer to the country. Well, it is clear that I soon fell ill with a sore throat there and, in addition to treatment, they began to feed me strawberries from their dacha, very large and tasty, which no one had ever seen in Penza. I am very sorry that at that time I did not see the general's dacha in Leningrad, but later, around the year 70, my school friend invited me to the "officer's dacha" near our city. In what rank his father was, I don't remember now, but, most likely, he did not reach the colonel. The house is two-storey, but small and built from materials collected from the pine forest. The plot itself was not large, but there were so many planted there that it was impossible to walk on it, and it is clear that all this (after my garden, where it was possible to play hide and seek!) Did not make an impression on me. Poverty, not a summer residence!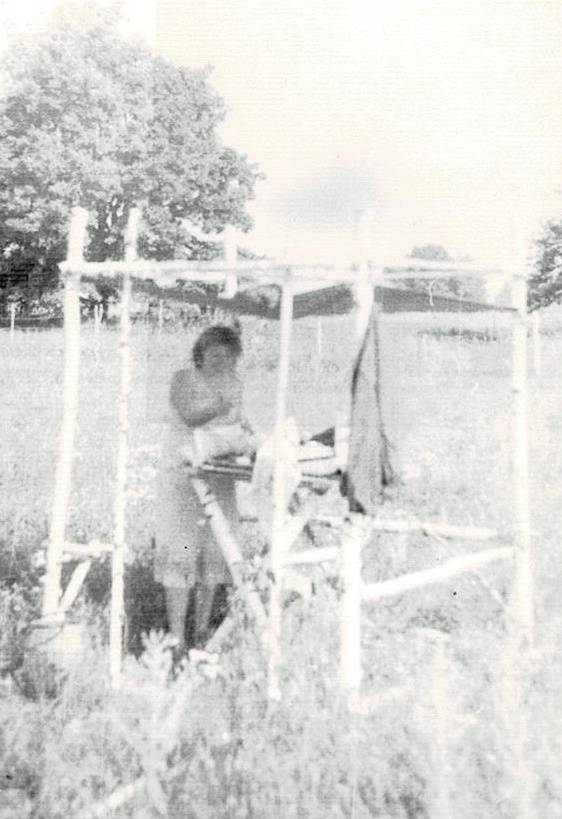 We had no money for a house, and we erected such a "structure" on the site: four pillars without a roof (a piece of tarpaulin served as a roof), X-pillars and a tabletop on them, which I literally miraculously saw and picked up in the forest. As a result, all our neighbors began to ask us to eat. But I had to sit on thin logs ...
In 1976, our old house was demolished (which my young wife really regretted, she liked it so much) and given an apartment in a stone house of four rooms. None of us thought about getting a dacha. Stepfather's dacha was located ... in the middle of Rostov-on-Don and was quite small in size. There were wonderful plums growing there, but the house itself was an ordinary barn. And again, I didn't like this "dacha" at all.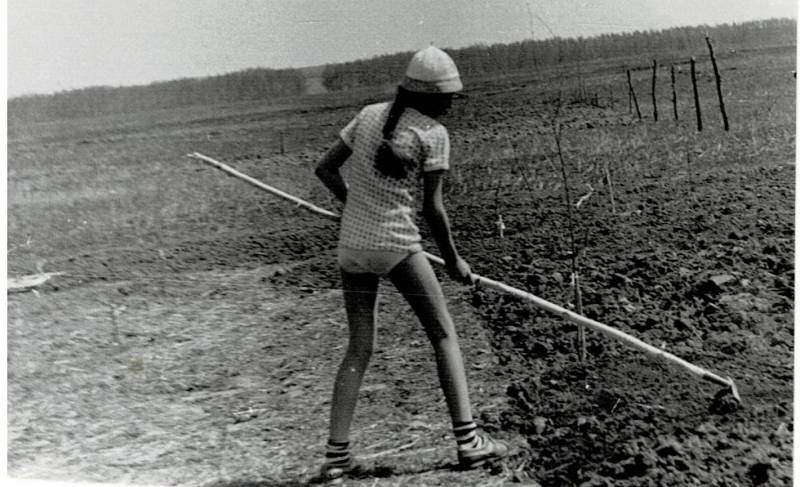 Surprisingly, my 13-year-old daughter loved working on the land.
Then, already in graduate school in Kuibyshev (now Samara), I got to the dacha of my friend in Dmitrovgrad. His dacha had an area of ​​only 3 (!) Weave and everything there was planned out so as to get the maximum from each piece of land. A small house - a shed for a sofa and garden tools, a toilet of the "outhouse" type - that's all that was there from the buildings. There you could either sit on the sofa in the barn, or work. Of course, I appreciated the diligence of my friend, who managed to turn these three hundred square meters into "this", but personally I did not like this "dacha" at all. Still, I wanted to rest there sometimes ...
And here, one might say, I was extremely lucky. A certain Muscovite, a model tanker, invited me to visit in 1987, and I had to live in Moscow for at least a month, work in the capital's archives and in Leninka. Well, I went to him, and I tried to take advantage of the opportunity: I left the house at 8 am and came at 8-9 pm, so I didn't really bother them very much, and the apartment there was like that, that it was not difficult to get lost in it. "And on Saturday we will all go to the dacha!" They warned me. I didn't go to Leninka that day, but went to "a typical dacha near Moscow". Like Gaidar's ... Only it turned out not quite like Gaidar's. First of all, it turned out that as a result of the different family and marriage relations there, the family of my owner moved over the area "one-eighth of the academic dacha." "And how much is it: an academic dacha?" - I asked, and was downright discouraged by the answer: "Hectare!" This is how our academicians were valued in Soviet times: became a member of the Russian Academy of Sciences - get a hectare of land near Moscow in possession and build any mansions there! Arriving, we greeted some people behind the fence, where a dense forest grew and where, according to them, they were picking mushrooms for breakfast. "And what's in there?" - I asked and the answer again surprised me all: "There is the dacha of Academician Fersman." That is, this forest, which did not shine through from one end to the opposite, is this most notorious academic hectare? Great, you won't say anything! And then I saw a two-story house standing there and immediately decided that this was the way it should be. After all, an academician ...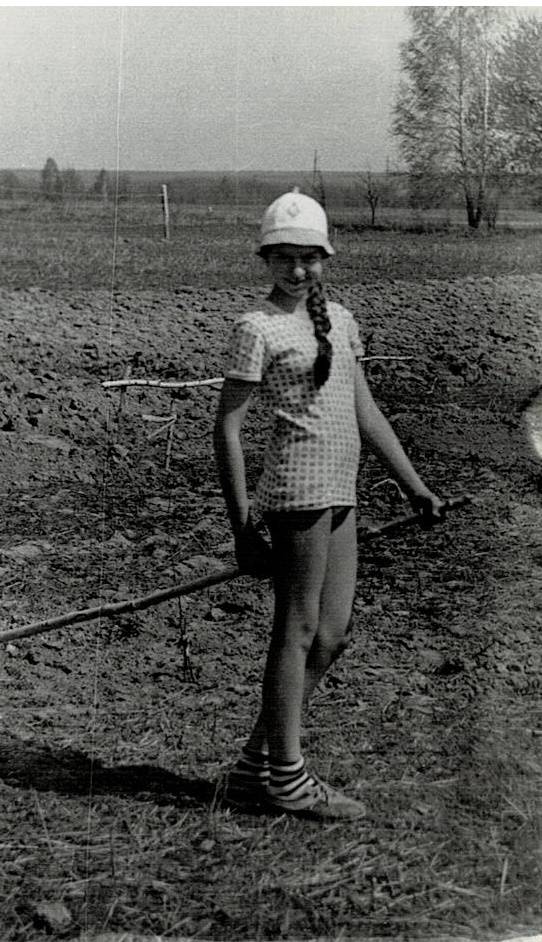 May 1988, a plot near the village of Shnaevo, Penza region
However, the plot of one-eighth of the academic dacha also made a strong impression on me. It was not that big, but there were mast pines, a bed of strawberries, a bed of flowers on it, and there was also a garage, a barn and a stone house with a glazed veranda, a shower room, a warm toilet and ... three rooms. It was a pleasure to live there, but the pine trees made a lot of noise at night, because the wind was ...
They took me to show the village itself, and then I saw a strange and very large house, which somehow resembled an Egyptian tomb and a narrow-gauge railway leading to it. "What is this?" - "Dacha of the Minister of Defense!" - "Why a narrow-gauge railway?" - "Materials were transported along it directly from the station, and there - from Finland!" "But don't we have a wild stone or a tree?" - "So no!"
This seemed to me a little redundant. It is clear that the Minister of Defense was not like any academician, but after all, he was also a communist, an example for his subordinates. And then the narrow-gauge railway and building materials straight from Finland!
I told about all this at home. My wife just shook her head, and in the spring of next year she called me in Kuibyshev at the hostel: "Come! At our institute, land plots were distributed for summer cottages, and I took one for you and me. On Sunday we go to the place ... to post! "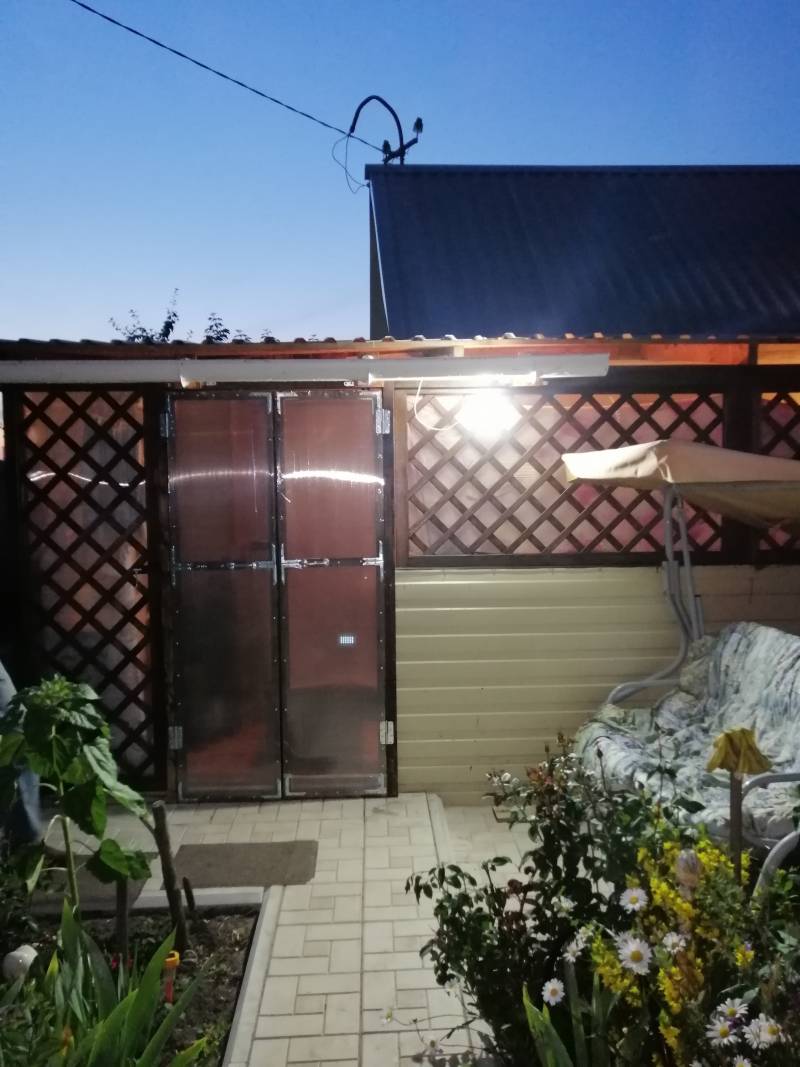 Today everything is a little different for me ...
What a woman wants, God wants! I grunted, asked for time off at the pulpit and drove home, and the next day, having stocked up with a shovel, an ax, a saw and nails, I was shaking in a stuffy train with my colleagues in order to finally become a summer resident. It took about forty minutes to go to the town of Shnaevo, where our institute was allocated a plot for summer cottages. Then it was necessary to go through the village, cross the stream, climb the mountain and walk four kilometers along the edge of the forest to the first ravine, a small and shallow ravine. Then a pine forest, behind which was a second ravine, deep, like an anti-tank ditch. And on the opposite side of it were the land plots allocated to us, professors, associate professors and assistants of the Penza Polytechnic Institute. Solid loam and stones, by the way.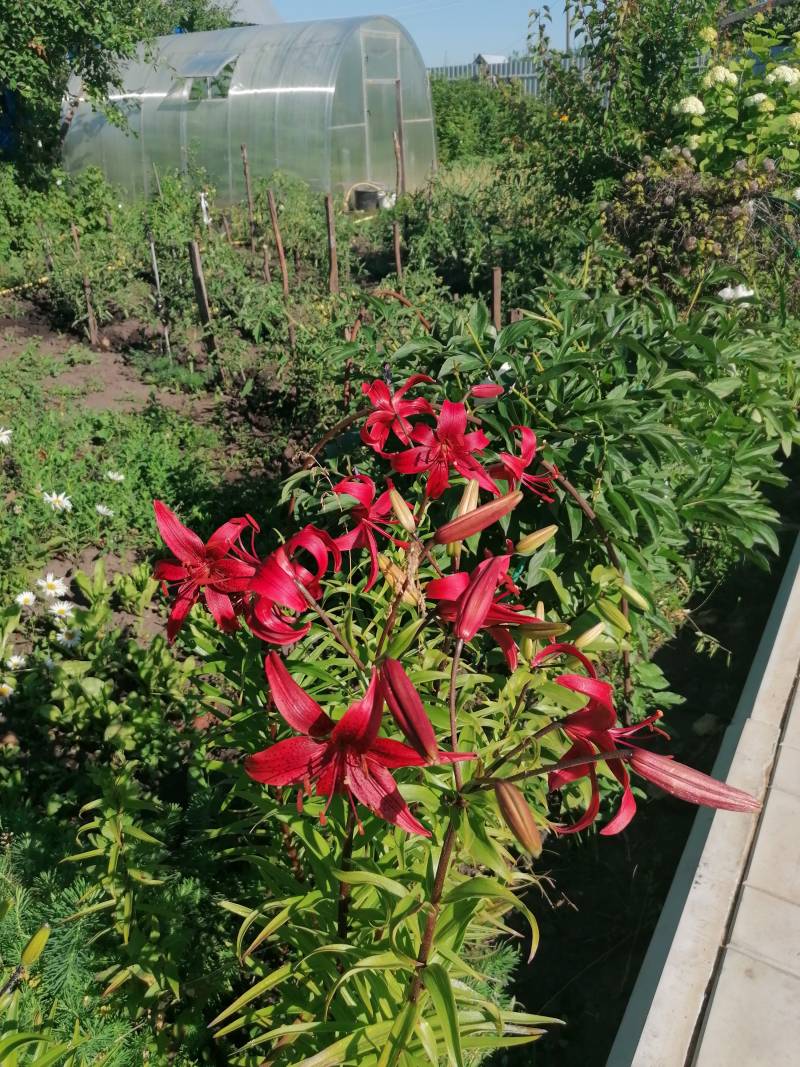 And I myself, and my daughter, and my wife, we all really love lilies and lilies on our site we have a lot. There are such ...
Our site was not so far from the ravine: the second from the edge on the second street. Everyone immediately rushed into a nearby birch grove and began to "cut down the forest": chop poles and fence off their plots. They dug holes, put pillars in them (fortunately, the stones were right there at hand!). And that's how everyone fenced in, but the grove, of course, disappeared.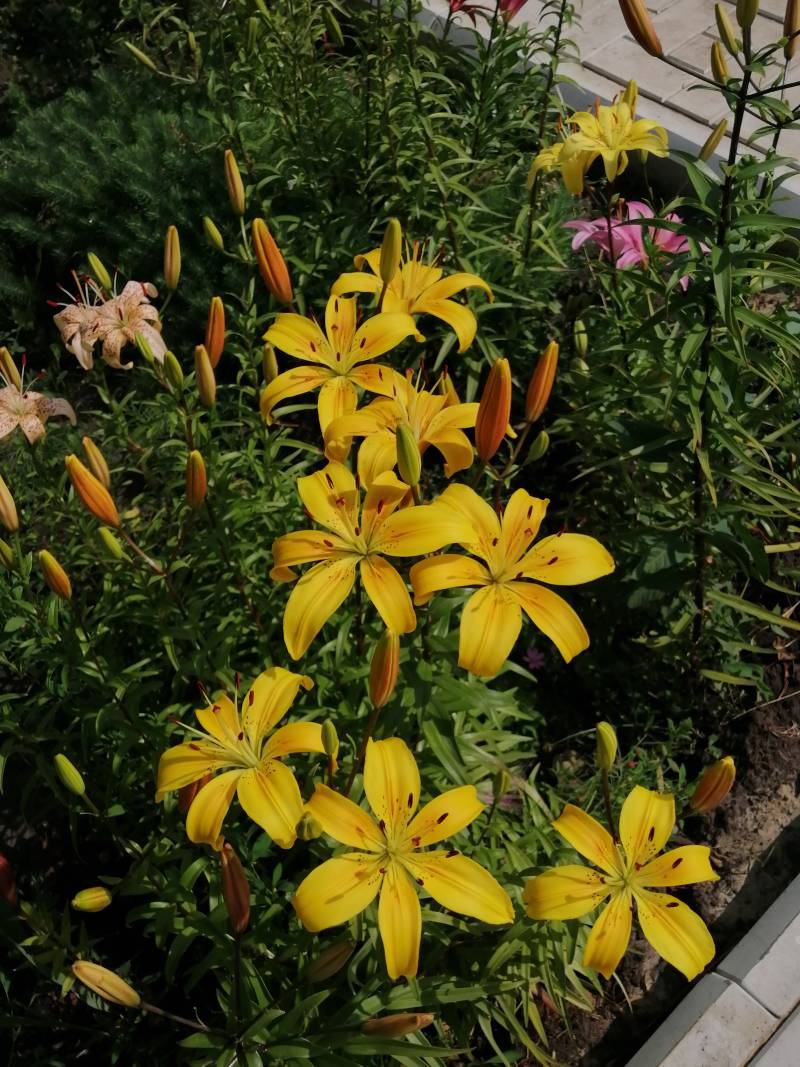 There are such…
I ask the "senior": "Where is the water?" - "There is a stream in the ravine. We will dam it up - there will be a pond and we will pump water from it through pipes "-" And the electricity? " - "Let's put up the pillars and hold ..." - "And when?" - "Two years from now ..."
Local craftsmen immediately approached and began to offer to cook a tank: a container for water. Price - 150 rubles. For a graduate student, it is unaffordable. And pour to the brim - the same amount. And this is the salary of an associate professor. But I remembered that the Incas in ancient times provided watering of their highland fields with cairns of stones. A human-sized pyramid was folded with vents, and due to the fact that water from the air got into it, it watered up to 50 square meters. meters. And then there were heaps of stones. True, my pyramid came out small, up to the waist. But this was enough for our five hundred square meters!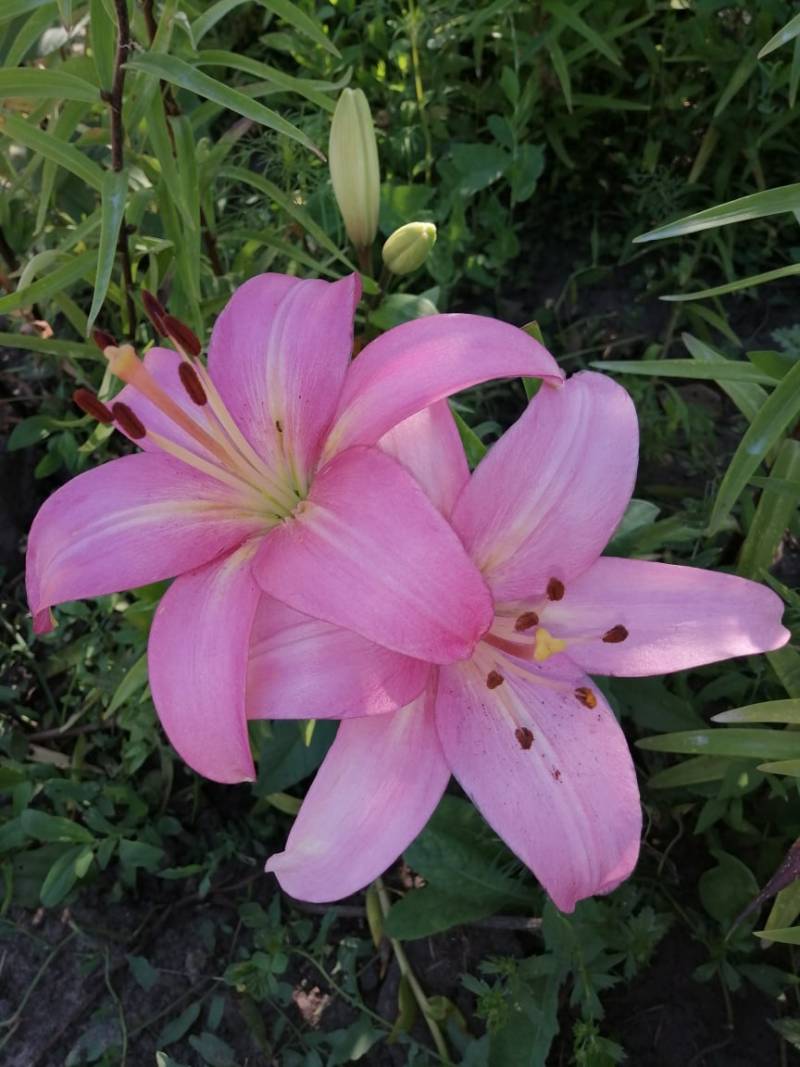 There are pink ...
Spring, you need to plant. So I went with my daughter to get strawberries in one of our state farm. And we are told: go to the fields and dig. The price is 10 kopecks. bush. Well, we dug for 4 rubles, and then again on the train, again five "keme" to the dacha, and then (and it was on May 1) it suddenly began to snow. And we also bought a black film to plant under it. What to do? They lit a fire, and I began to burn holes in the film with a smut, and then plant seedlings in them. Tomato seedlings were also planted like the Indians: horizontally, from north to south, and secured with wire brackets. Corn was also planted like an Indian: two or three grains in one hole on top of a freshly frozen anchovy fish.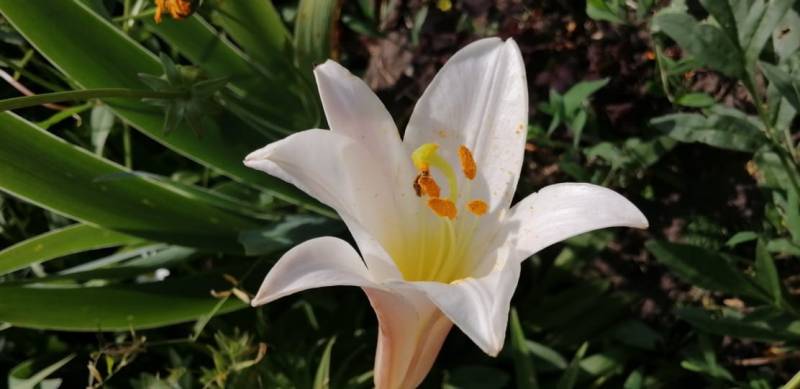 There are pale white ...
And the very first year gave an excellent harvest of strawberries and corn. Moreover, in the middle of summer we generally went to the south to rest. We come back, and our neighbors-colleagues happily inform us: "And you have overgrown the whole area with weeds!" It was overgrown, but ... under the weeds there were delicious tomatoes, many and all bright red. Once again I was convinced that our people in trouble will sympathize with you and even help you. They can't survive someone else's success, especially if an assistant does something better than a venerable assistant professor.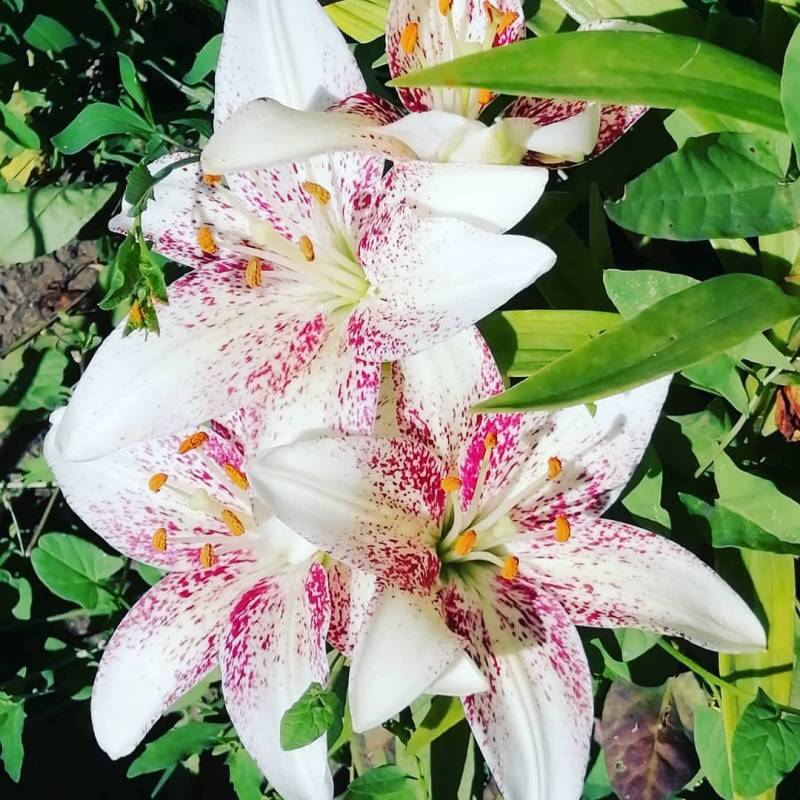 And a very exotic look ...
And the dam that was built for the dam was demolished by a flood in the same autumn: they built the Dnieper Hydroelectric Power Station, but here they did not manage to dam up the ravine. And we stayed with our pyramid for another two years. As soon as you leave for the summer - so from the harvest the horns and legs, all the "birds ate", but even if you collect the same potatoes - diarrhea with buckets five kilometers from the station in a backpack! You'll break your whole back. So in 1990 we gave up our first summer residence ...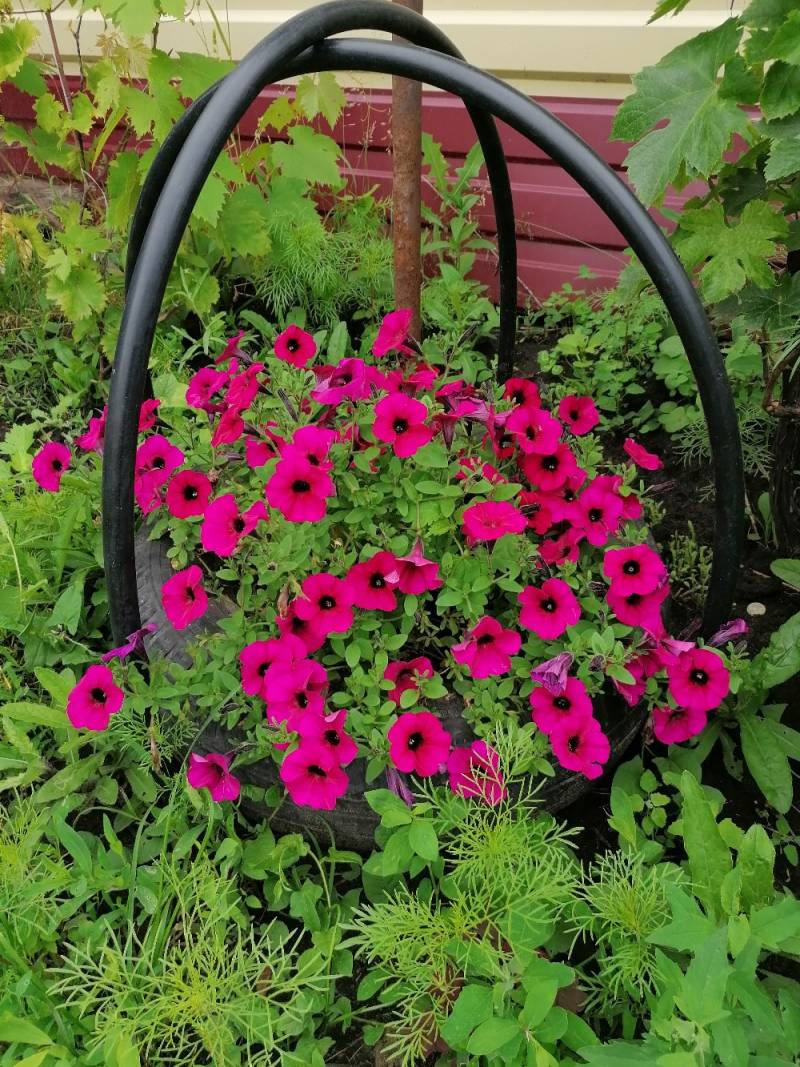 Our petunias, like many others, grow in car tires!
The second and last one was bought six years ago. Now you can no longer take what they give you for free, but buy what you like.
We chose 19 kilometers from the city, within walking distance from the bus stop, which is convenient in all respects. The area is seven and a half acres, with a finished house, which made it possible to talk about prospects. True, the former owner did not really understand us when we started talking about flowers: "They don't eat them!" He himself planted potatoes and strawberries there, and all this was for sale. And one more thing that surprised me: in the corners of the site, and everywhere, there was some kind of rubbish. Bricks, rolls of rusty wire, rotten boards, and the barn was full of empty paint cans and dried brushes. Why he kept all this is unclear.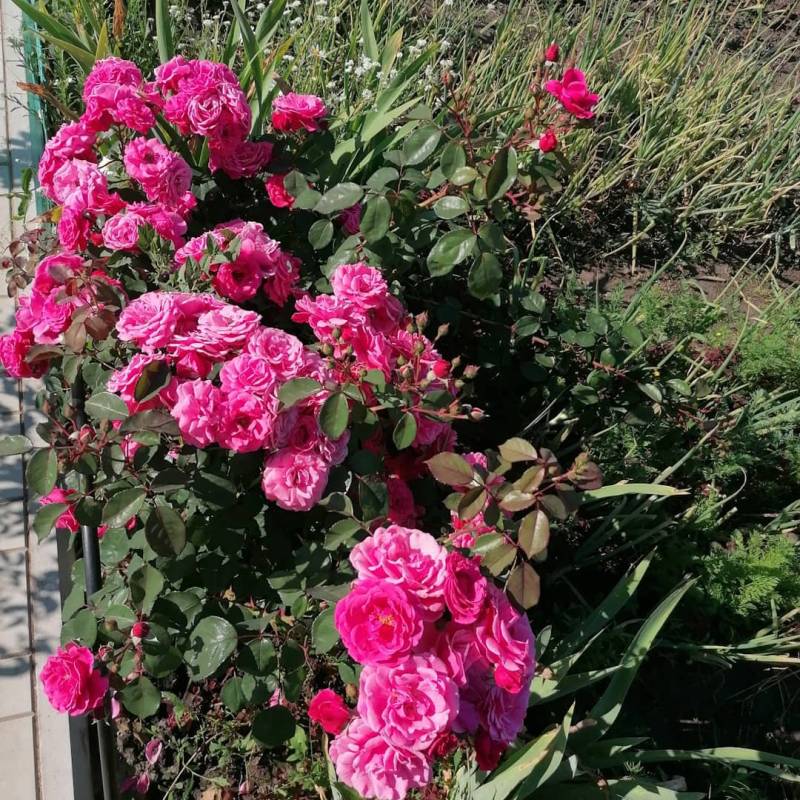 Roses, and very different, we also have a lot
It took a long time to fight all this, but now there are no more traces of the "collective farm" left. Paths of stone tiles have been laid, the house is sheathed with metal-reinforced plastic, and there is a similar fence. Three greenhouses with automatic opening vents: one for tomatoes, one for peppers and one for cucumbers. In addition, they also grow a lot of all "herbs", from basil to arugula. Well, flowers, of course. Although they are mainly engaged in my daughter, and I just admire. Indeed, in my old wooden house of Soviet times, there were also a lot of different flowers planted by my grandmother. I got used to them. Light, water - everything is there, in a word, live and rejoice, although for some reason some are surprised at me: "At your age, people sell summer cottages, and you started ..." By the way, in our suburban area there are a lot of houses much cooler than mine. And there are no abandoned dachas at all, and the summer cottage village stretches for many kilometers! This is me talking about how people in our country after 1991 "become poor". And so they all "become impoverished" that in place of the old houses on the plots, new ones are being built everywhere, greenhouses stand in rows, and some are erecting real mansions with tennis courts for you. In a word, well, just a huge array of suitcase dachas has grown near Penza, the owners of which are all listed as "needy".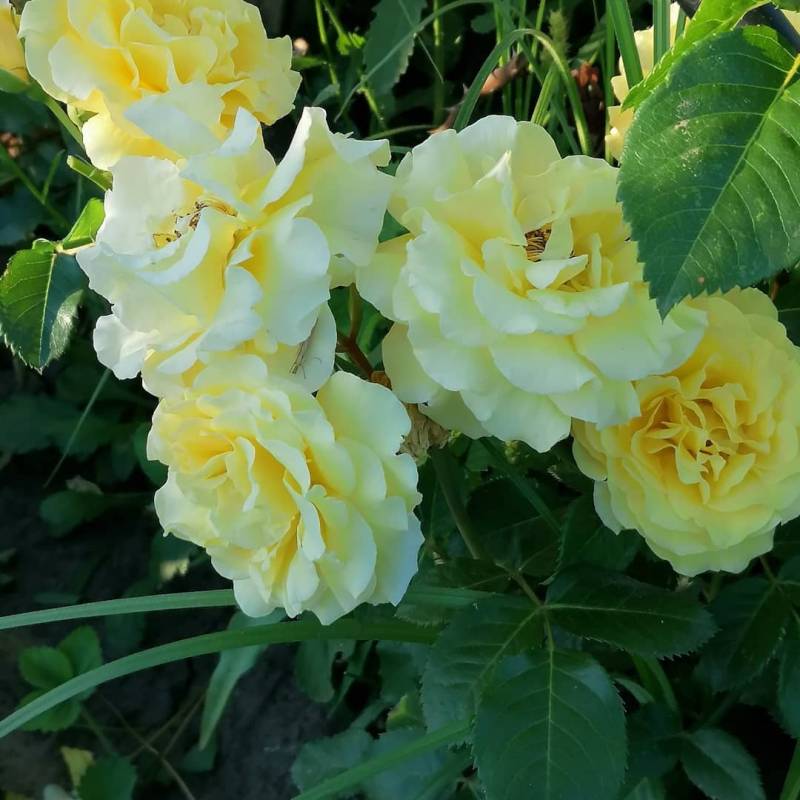 "Tea roses"
Correct planting and good care allow, despite the sandy soil, to get good yields. Therefore, two refrigerating chambers of two refrigerators in human growth are crammed to capacity in our country, up to grated frozen carrots, which have not ended until today. Sometimes we only buy bread and milk in the store. If you need something from the rest, then for this there is a market with farmers-producers, whom I know and who will not sell me bad things.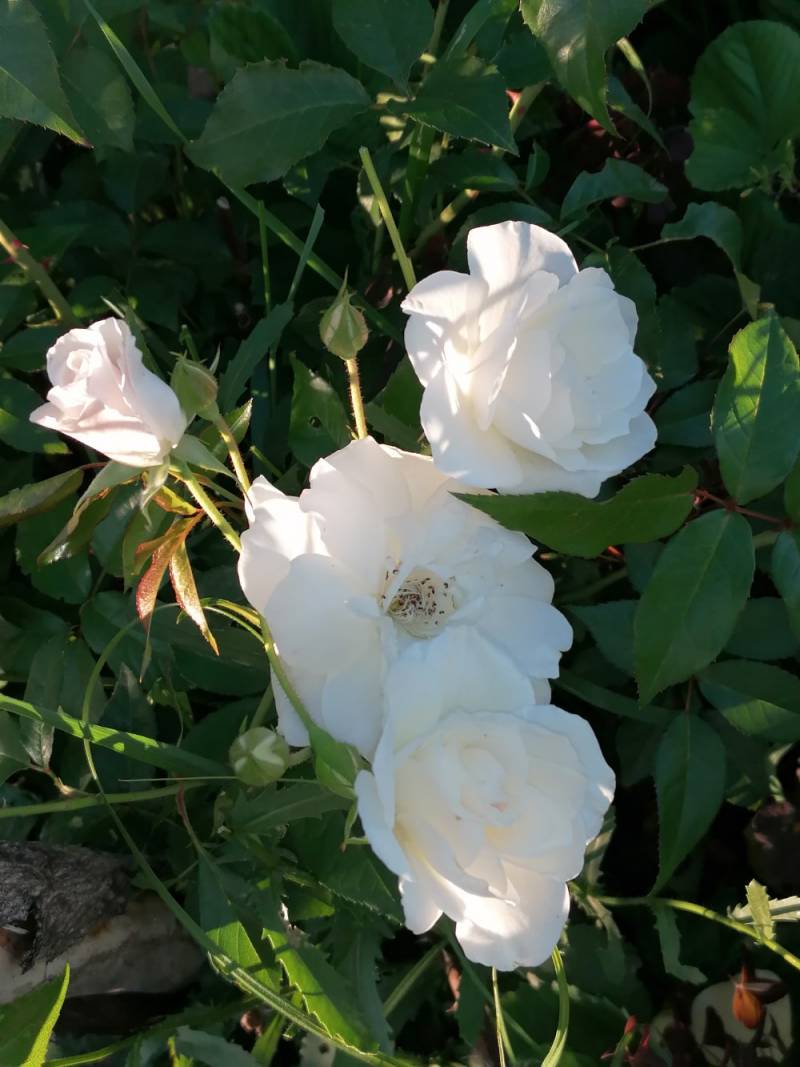 Well, you can't do without the most delicate whites!
But I can't write at our dacha. The Internet works strangely there ... at the level of my head, but does not accept reception at the table. But maybe it's for the best. Here you dig - and here in the city you write ... Everything is according to Marx, who even when he wrote about the coming creative division of physical and mental labor.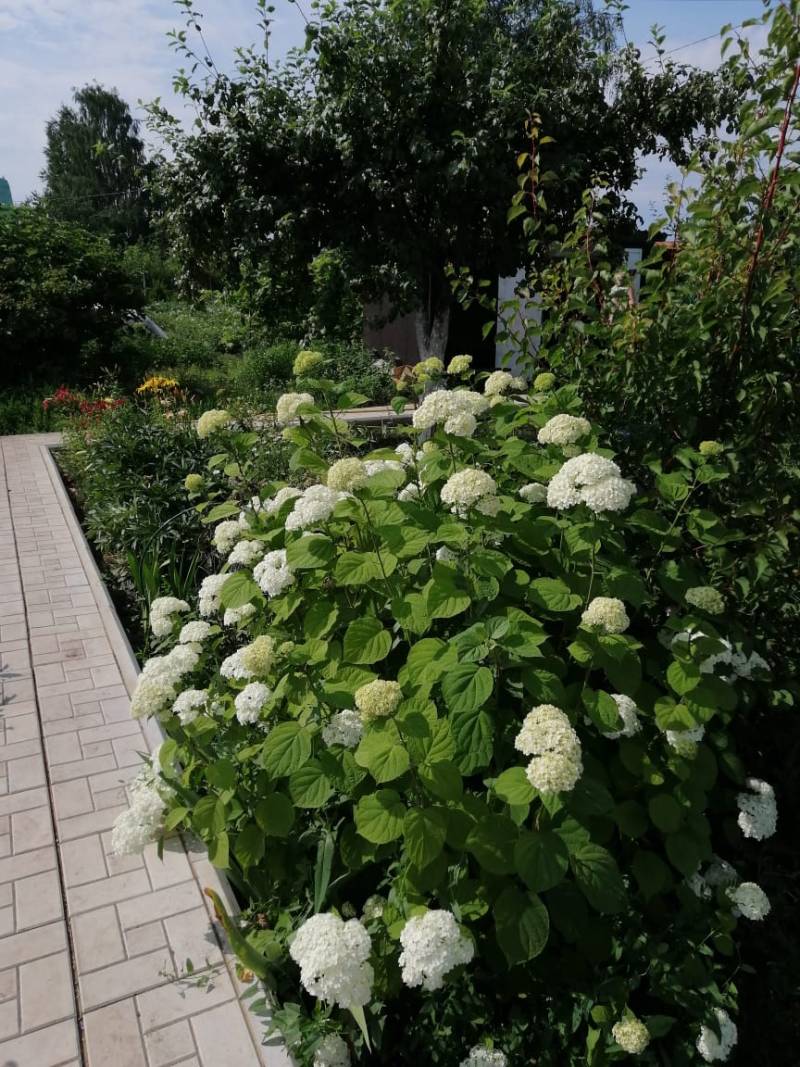 Hydrangea on the background of apple and apricot. Nice, isn't it?
PS I was always attracted by the image of the landowner Kostanzhoglo from the second volume of Gogol's "Dead Souls". And so I tried to work in this direction, and albeit on a small scale, but everything worked out ...