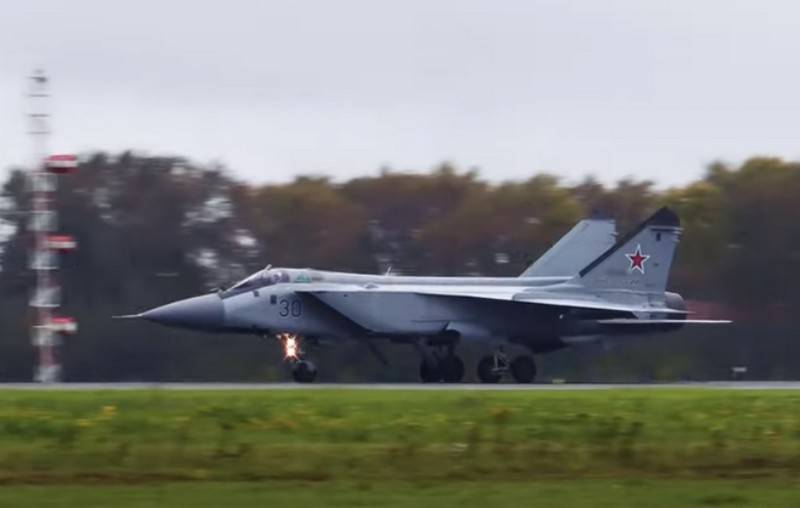 The Russian military department is studying the issue of extending the service life of the MiG-31 supersonic interceptors. This was reported by Izvestia with reference to sources in the Defense Ministry and the defense industry.
As stated, the Ministry of Defense is studying the issue of extending the life of the MiG-31, but the final decision on this issue will be made only following the results of research and development work (ROC).
At the same time, it is reported that R&D has already begun to extend the life of the upgraded MiG-31BM fighter-interceptors. Work on their modernization will take place in two stages: by the end of 2021, tests will be carried out in order to confirm the airframe's resource of 3 thousand flight hours, and in 2022 the resource is planned to be increased to 3,5 thousand hours. The end of the ROC is scheduled for 2022.
The publication writes that all the MiG-31BMs in service were built in the late 1980s - early 1990s and their service life is limited to 2,5 thousand flight hours. The extension of the resource by another 1 will allow the use of interceptors until the mid-2030s.
To maintain the combat readiness of aircraft after the increase in service life, it will be necessary to resume production of key components and assemblies of the D-30F6 engines installed on the MiG-31. In 2018, the company "UEC - Perm Motors" announced its readiness to do this in case of such a need. According to the company, the available stocks of aircraft engines and repair kits for them are enough to operate the MiG-31 in the Aerospace Forces for another 30-40 years.
As noted, the extension of the service life of the MiG-31 will allow them to be kept in service until a full-fledged replacement is created in the form of a "promising long-range intercept aviation complex" (PAK DP or MiG-41).