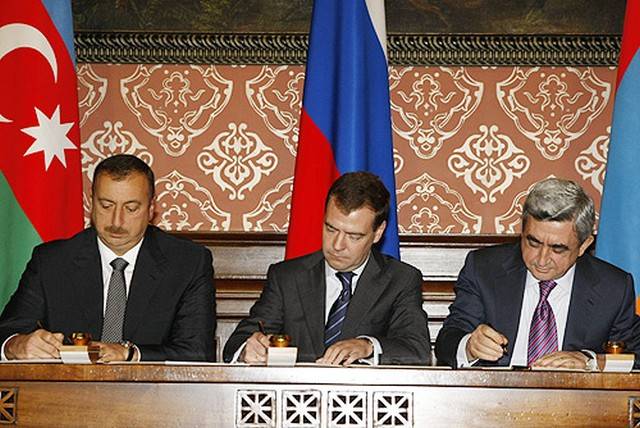 Well, the situation that I wrote about in
material immediately after the start of the Armenian-Azerbaijani conflict
, moves along the rails already familiar to everyone. It is unclear whose provocation, then the aggravation of the military component and mutual threats up to the use of missiles at the enemy's infrastructure and the transfer of the conflict to a sluggish phase.
Will we shoot until the Russians offer their services for reconciliation?
It is already clear today that politicians on both sides are waiting. If we discard all the husk about contacts with some countries, about military assistance from some side, about the influence of foreign NGOs on the governments of both countries, then it immediately becomes clear that the only objective referee in this conflict can only be Russia. Someone else does not want to participate in resolving this issue.
By the way, even those events on the confrontation line that occur daily and are reported by both sides are an attempt to play on the nerves of the Russians, an attempt to shift the blame for the next killed and wounded on Russia. A kind of cleverly twisted scenario, when both Yerevan and Baku declare their readiness for reconciliation, and Russia, the only possible mediator, which both countries believe, is silent and does not make any attempts to reconcile the fighting.
The tactics are understandable and not even hidden by the governments of both countries. Wait, then to have a stronger position in the upcoming negotiations. We had to win and would have won, and therefore our conditions are more priority than those put forward by the enemy. At the same time, for internal use, the leadership of both countries talks about hundreds and thousands of patriots who are ready to go to war right now.
To be honest, I dislike the position of both countries. Both Yerevan and Baku are well aware of hundreds of thousands of citizens of their countries and ethnic Armenians and Azerbaijanis living in other countries around the world. Due to some peculiarities, Armenians and Azerbaijanis are forced to conduct their business in other countries.
How can one imagine the market of any European country without traders from Azerbaijan? Well, they know how to trade better than others. And they love to do it. How to imagine the construction market without Armenians? Those very teams that work from dawn to dusk at construction sites? Those who lay asphalt on our roads in any heat. They also know how and love to do this.
Then what are the leaders of both countries thinking about? They do not think that the conflict between diasporas in other countries exists anyway. The hatred of the representatives of the two peoples, reinforced by the blood of their murdered relatives, has not yet spilled over into an open massacre, but this is still. For now, law enforcement officers in these countries can control the mood in the diasporas and stop conflicts in time.
By the way, I would also pay attention to the statements of high-ranking officials and politicians of both countries. I am about the readiness to use missile weapons in the event of an escalation of hostilities. Somehow, most of our experts missed this statement. Meanwhile, both states have facilities on their territory, the destruction of which would mean the destruction of the country. At least economically.
Let me remind you about the promises of the Armenian Defense Ministry to attack the Mingechevir reservoir and the return promise of the Azerbaijani Defense Ministry to attack the nuclear power plant in Armenia. Of course, they will object to me that this is an element of an information war, but in fact no one will dare to take such measures. Maybe so. But my upbringing is not like that, I'm used to trusting my eyes and drawing my own conclusions. A cat, cornered, turns into a tiger and will fight to the end. Until victory or death ...
What Russia is doing to extinguish the fire
Today there are a lot of people who "do not see" Russia's efforts to localize and end the Armenian-Azerbaijani conflict. There are no harsh shouts, no threats, no sanctions ... In short, there is not all that tinsel that politicians like to raise when solving even trivial issues.
Meanwhile, even Western experts note the tremendous work of the Russian Foreign Ministry in both capitals. Diplomats in Yerevan and Baku do not stop working for a minute. The results are not yet visible for one simple reason. If earlier, before the Pashinyan government came to power, Armenia occupied a conditionally pro-Russian position, was an active member of the CSTO, now Yerevan is more an enemy of Russia than a friend. And anti-Russian performances there are commonplace. And Armenia has not participated in the work of the CSTO for two years already.
Thus, Russian diplomats, I think, convey to both governments the position of our country. We are neutral. We respect both peoples, but we will not take the side of one of them. Which makes the Armenians angry enough. The media remind us every day of the Russian military base in Armenia, of membership in the CSTO, of "traditional friendship", immediately forgetting about the anti-Russian rhetoric of recent days.
It is just as difficult to explain our neutrality in Baku. The fact that Azerbaijan is actively cooperating with Turkey is quite understandable. How explainable is our cooperation with Belarus, for example. But this cooperation does not in the least prevent Baku from conducting political, economic, cultural and other dialogues with Moscow. This does not prevent Azerbaijan from purchasing our weapons. We have concluded many mutually beneficial contracts.
In general, in diplomatic terms, an active search is under way for solutions acceptable to both sides, the development of options for these decisions and the preparation of an appropriate meeting of leaders of states.
Kind word and a gun
Today, panicky cries of "philanthropists" are heard from all sides that a war may break out that will set fire to the entire Caucasus. The thesis, I must say, is quite contrived and controversial. But we will proceed from the fact that the military exists for that, in order to foresee even such unlikely cases and to take measures to prevent it.
We have already written about the reaction of the US and NATO to the Russian strategic command and staff exercises "Caucasus-2020". The overwhelming majority of our readers understand that such exercises are never carried out from scratch. It is only in movies that units and units act as a single mechanism without appropriate training. In life, however, the coherence of the actions of a subunit, not to mention units, formations and formations, is the result of the enormous work of commanders of all levels, engineering and technical personnel, specialists of many military professions.
Simply put, in order for a regiment to complete a combat mission, it is necessary that every screw of this complex mechanism works for this mission. For this, exercises are conducted before regimental exercises in platoons, companies, battalions. Combat coordination of units is being carried out. So that each soldier and officer clearly understands the algorithm of their actions when executing orders.
To understand the enormity of the task set for the exercise, it is enough to list at least part of the forces and means that will be involved. So, 149 military personnel, 755 pieces of equipment and weapons, 26 aircraft, 820 ships and auxiliary vessels are involved. The geographic coverage is impressive too. Southern and Western military districts, marines of the Northern and Pacific fleets, airborne forces, units and formations of central subordination.
And all this power will conduct tactical exercises as preparation for strategic ones. 56 such exercises are planned at 35 training grounds and 17 marine training grounds in the waters of the Black and Caspian seas. As a final check before the start of the Kavkaz-2020 strategic exercises, the Ministry of Defense is conducting a surprise check of the troops.
I deliberately did not write about the teachings more specifically and in depth. Moreover, the material is about something else. It is clear that a lot of work has been done in the units and formations in the course of training. Military equipment and weapons are in excellent condition. Logistic services, medical support, communications and everything else have been prepared.
This is the very "pistol" next to the "kind word", which in case of misunderstanding of any of the parties to the conflict, Russia can use as an instrument of pacification.
I argued then and I repeat today: war is not needed by any people or even the state. Neither Armenia nor Azerbaijan want to fight. Moreover, judging by the statements of various politicians in these countries, there is not even an understanding of why this conflict arose. In my opinion, this is just an opportunity to let off steam, which has accumulated quite a lot due to economic problems, due to quarantine and restrictions associated with the disease.
The conflict must be ended. Never worth getting
weapon
when there is an opportunity to talk. Weapons are taken out only when a fight is imminent. It was a fight, and not a catwalk runway with casualties and comments from showmen from politics.