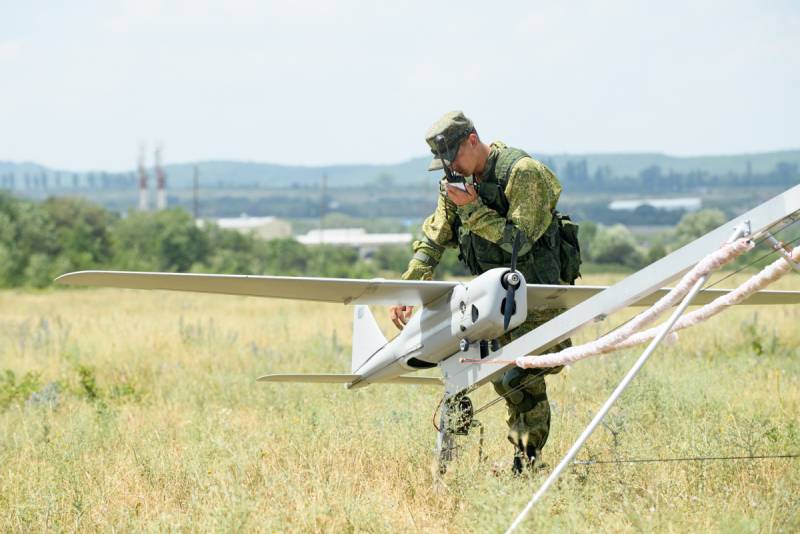 Like many other countries, Russia today is actively engaged in the creation and development of unmanned aerial vehicles for its army. They are an important area of ​​military technology, without which it is already impossible to imagine modern combat operations.
The Chinese edition "Huangqiu Shibao" writes about the achievements in the development of military drones in Russia.
The increase in investment in this technique began in our country in 2012. Now in service with the Russian army there are more than two thousand UAVs, most of which have already taken part in training and combat missions. During the anti-terrorist operation in Syria, Russian drones made more than 23 thousand flights, spending a total of more than 140 thousand hours in the air.
Mainly Russia uses small UAVs in the Middle East. They are engaged in intelligence, electronic warfare, monitoring and relaying communications. In addition, drones assess the damage caused to the enemy as a result
aviation
and artillery strikes. UAVs are also of great benefit in search and rescue operations. In particular, in 2015, the pilot of the Su-24 fighter, shot down by the Turkish Air Force, was the first to be found by the Orlan-10 drone.
And although Russia is still lagging behind other countries in the development of unmanned vehicles, our developers are gradually closing this gap. The appearance of the Orion heavy medium-altitude drone and the Hunter stealth UAV under development, which is to become the prototype of the sixth generation unmanned fighter, deserves special attention. At the moment, these are the first Russian models of their class, on the development of which there is still a lot of work to be done.
So far, in Russia there is a shortage of shock-reconnaissance drones and large-sized UAVs capable of operating at high altitudes, being in the air for a long time, but this direction is actively developing.