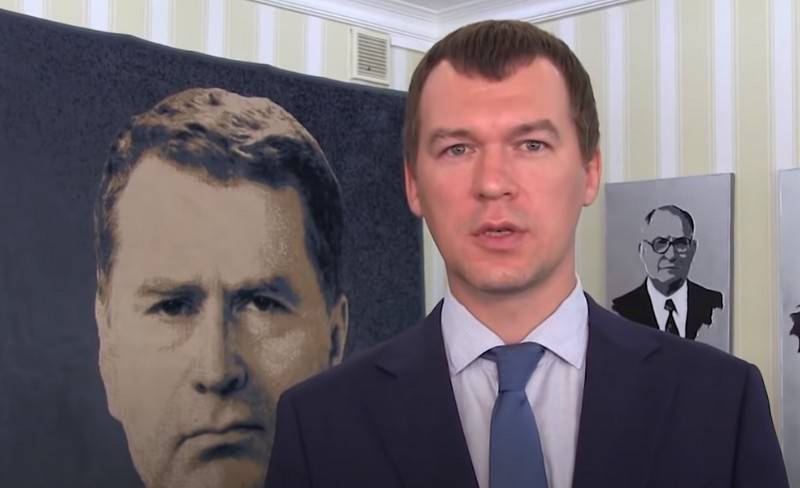 The interim governor of the Khabarovsk Territory, appointed by Vladimir Putin, Mikhail Degtyarev, unexpectedly took up the inner circle of the former head of the region, Sergei Furgal. To date, two officials have been dismissed from the government and the interim governor is awaiting a statement from one more.
Mikhail Degtyarev, who was appointed acting governor on July 20 and arrived in the region the very next day, is not going to sit idly by. Despite the fact that he was greeted in Khabarovsk unfriendly and demanded to "go home", Degtyarev replied that he did not intend to leave and would continue to work. At the same time, he refused to communicate with the protesters, explaining this by the fact that spontaneous unauthorized rallies are specially organized by provocateurs hired by foreign states.
Arriving in the region, Degtyarev unexpectedly took up the inner circle of Furgal. He has already signed a statement on the resignation of First Deputy Prime Minister Vladimir Khlapov and Governor's Advisor Zakhar Sinyagovsky. In addition, Degtyarev said that the application for the dismissal of another deputy chairman of the regional government - Yuri Zolochevsky. And all this in three days in office. More reshuffles and dismissals are likely to follow in the future.
Among Degtyarev's other affairs, one can note the upcoming visit to the region of the Minister of Energy of Russia Alexander Novak, who will fly to Khabarovsk on behalf of the Prime Minister Mikhail Mishustin. The day before, Mishustin promised to allocate 1,3 billion rubles to the region to cover losses from the coronavirus.
We will discuss with him the energy issues of the Khabarovsk Territory, the fuel and energy complex
- explained Degtyarev Novak's arrival.
In addition, the Acting Governor agreed with Moscow Mayor Sergei Sobyanin on the supply of equipment and medicines. Degtyarev said that Moscow has the opportunity to send doctors and equipment to fight the coronavirus to Khabarovsk.
Sobyanin promised to send us both equipment and medicines from his stocks, which are very expensive, which are used to treat seriously ill citizens.
- he added.
Meanwhile, in Khabarovsk, daily unauthorized rallies in support of the arrested Furgal continue. Since July 21, after Degtyarev's arrival, posters have appeared calling for him to resign. Among other slogans: "Putin - resign!" and "Shame on the Liberal Democratic Party!"