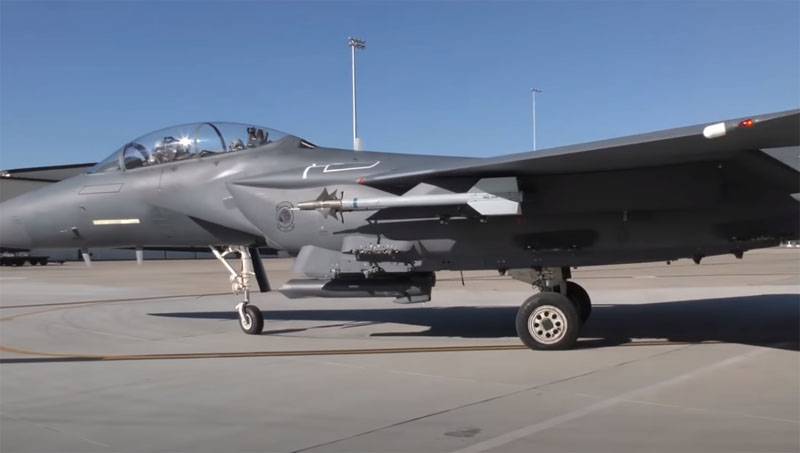 The United States is commenting on the incident involving an airliner and a fighter jet. According to the latest information, the F-15 fighter was sent by the command for a rapprochement with an Iranian passenger plane. The airliner is owned by Mahan Air.
The incident took place in the airspace of the Syrian Arab Republic.
US Central Command said there was "nothing wrong" in bringing an F-15 fighter to an Iranian airline airliner:
Our plane was on a regular duty mission in the Al-Tanfa area in the airspace over Syria.
Apparently, for the United States, illegal presence in the airspace of an independent country has already become "duty".
From the Americans post:
The F-15 fighter approached a safe distance, identified the aircraft and its affiliation (airline) Mahan Air. Then he began to move away, increasing the distance.
The Americans argue that the F-15 did not approach the Iranian carrier's airliner closer than 1 km.
However, it is known that the airliner was forced to make an abrupt change of echelon, then go for an emergency landing at the airport of the Lebanese capital of Beirut. Even several casualties have been reported. After a while, the plane continued its flight and landed at the Tehran airport.
In Iran, the incident was called an American provocation, and people suffered as a result. Tehran believes that the F-15 was sent to a rapprochement with a passenger plane in order to interfere with its flight, which, in principle, happened.
The network claims that the F-15 crossed the course of an Iranian airliner and provides these footage:
Auf weiteren Aufnahmen ist zu sehen, wie sich die Kampfjets der Passagiermaschine nähern. Nach einer ersten Analyze handelt es sich dabei um Kampfflugzeuge des Typs #F15.https://t.co/U34VvT6rjxpic.twitter.com/gxaG68DJEU

- RT Deutsch (@RT_Deutsch) July 23th, 2020