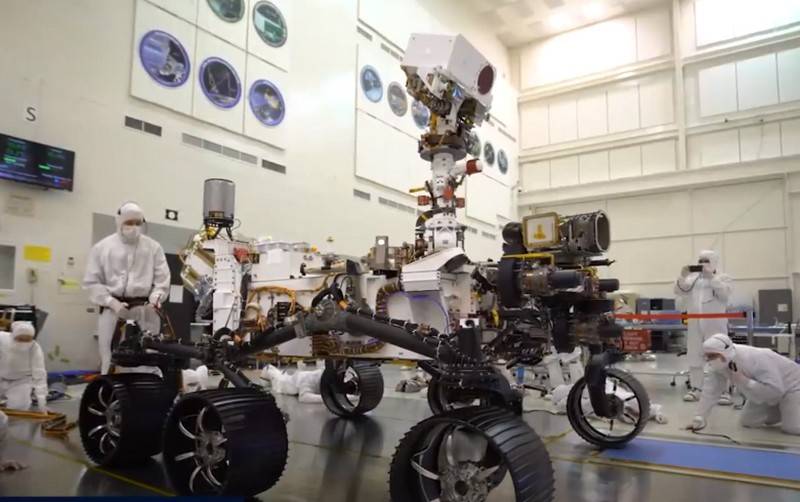 The American Mars rover Perseverance has passed all pre-flight tests, its launch to Mars is tentatively scheduled for July 30 this year. This is reported by NASA's Jet Propulsion Laboratory (JPL).
According to the report, the rover passed all the tests planned before the launch of the Atlas V rocket to the launch pad and the transfer of the rover to onboard power. The decision to fully launch Perseverance will be made on Monday, July 27, following the final tests of all systems of the launch vehicle and rover capsule.
We are very pleased that we have cleared another launch barrier and that all pre-flight checks went well. At the same time, we are not going to relax and will continue to work in the same vein until we launch the rover into space. Mars is a very harsh planet and we are not going to leave anything to chance
- said the deputy head of the Perseverance project Matt Wallace.
Initially, the launch of the rover was scheduled for July 17, but due to difficulties in docking the capsule with the rover and the launch vehicle, it was first postponed to July 20, then to 22, and the last date was July 30. At the moment, all problems have been resolved, but the device can go to Mars even later, if the launch is prevented by the weather or any technical problems that have arisen.
As previously reported, the American rover, as well as the Chinese launched today, will reach Mars for about seven months. Upon arrival at the Red Planet in February 2021, he should land in the vicinity of the Yesero crater on the equator of Mars. The rover is equipped with a special Ingenuity helicopter, which should show that flights to Mars are in principle possible. The main objective of this mission is to collect and study the properties of sedimentary rocks.