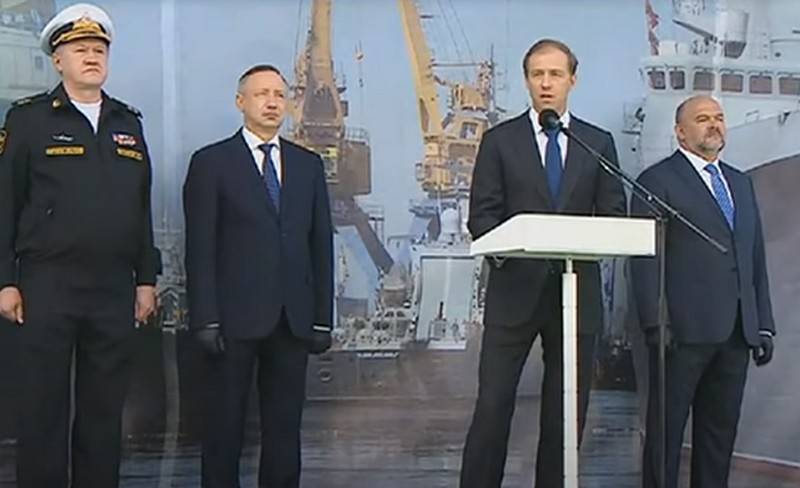 The two frigates of the modernized project 20 "Admiral Yumashev" and "Admiral Spiridonov" laid down on July 22350 this year at the Severnaya Verf shipyard are planned to be transferred to the Naval
fleet
in 2025-2026. This was announced by the head of the United Shipbuilding Corporation (USC) Alexei Rakhmanov.
Answering the relevant question, Rakhmanov said that the construction of the two frigates laid down at Severnaya Verf in St. Petersburg would last four and a half years, and they would become part of the Russian Navy at the turn of 2025-2026. At the same time, the number of missile silos on the new frigates should be 24, not 16, as in the previous series.
The head of the Ministry of Industry and Trade Denis Manturov, who was present at the tab, said that the frigates would be equipped with hypersonic
weapons
... Most likely, he was referring to the Zircon hypersonic missile, which is planned to be put into service in the near future. It should be noted that tests of the Zircon from the board of a surface ship are carried out by the lead ship of the Admiral's series - the frigate Admiral Gorshkov.
At the end of last year, the head of the USC, Alexei Rakhmanov, announced that all the ships of the new series could be armed with the Zircon hypersonic missiles and the Caliber cruise missiles.
Recall that on July 20 in Russia there was a single day of laying of ships, during which two UDC "Ivan Rogov" and "Mitrofan Moskalenko" were laid down at the shipyard "Zaliv" in Kerch, two frigates of the modernized project 22350 "Admiral Yumashev" and "Admiral Spiridonov "at the Severnaya Verf shipyard in St. Petersburg and two nuclear-powered multipurpose submarines of the Yasen-M project named Voronezh and Vladivostok at Sevmash in Severodvinsk.