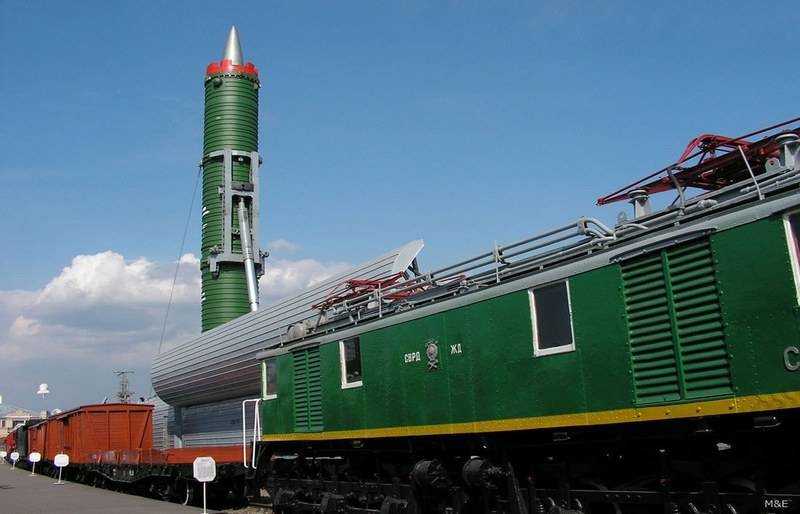 Russia may supply the Strategic Missile Forces with the new Barguzin combat railroad missile system (BZHRK) within three to five years. This requires the adoption of an appropriate decision by the country's leadership, said in
interview
RIA
News
expert in the field of strategic weapons, veteran of the Strategic Missile Forces Vladimir Evseev.
Deployment of the BZHRK would be the most effective response to the growth of NATO military bases near the Russian borders, he said, it was only necessary to make a decision to resume its development. According to the expert, the country's leadership froze the project, counting on the extension of the START-3 treaty, another reason was the lack of funds for the BZHRK.
I believe that the deployment of the Barguzin would be the most effective response to the strategic threat posed by the growth of NATO military bases near the Russian borders ... In my opinion, it will take about 3-5 to create a prototype missile, flight tests and work out various systems years, for a missile system this is a very short time
- said Evseev, adding that in terms of its characteristics, "the new BZHRK significantly surpassed its predecessor, the Molodets BZHRK."
The expert is convinced that the BZHRK is much more effective than the Topol-M and Yars mobile ground-based missile systems, which need to go into the field area and turn around for launch, which makes them vulnerable.
The Molodets had too heavy a rocket that did not fit into a regular carriage, which was an unmasking sign, and the Barguzin uses a "lightweight" rocket that is included in a regular carriage, the BZHRK can launch on any section of the railway
- he said.
Recall that the Ministry of Defense of the Russian Federation announced the start of work on the Barguzin military railway missile complex (BZHRK) project in the 2012 year, the Yars rocket was chosen for it, and at the end of the 2014 year it was reported that the project was closed. As the Russian media wrote, the development was postponed indefinitely. However, it was reported that development work was fully carried out on the project, and missile throw tests for the complex were also successfully conducted. Later information appeared that the resumption of work on it is possible if the military-political situation changes.
The development of the BZHRK was conducted by the Moscow Heat Engineering Institute, taking into account the experience of creating its predecessor - the BZHRK with the Molodets rocket (RT-23 UTTH, according to NATO classification - SS-24 "Scalpel"). "
During the Soviet era, there were three divisions in the Strategic Missile Forces, each comprising four Good Forces combat missiles. Thus, twelve "nuclear trains" carried 36 missiles, each of which carried 10 warheads. BZHRK utilization took place in 2003-2006.