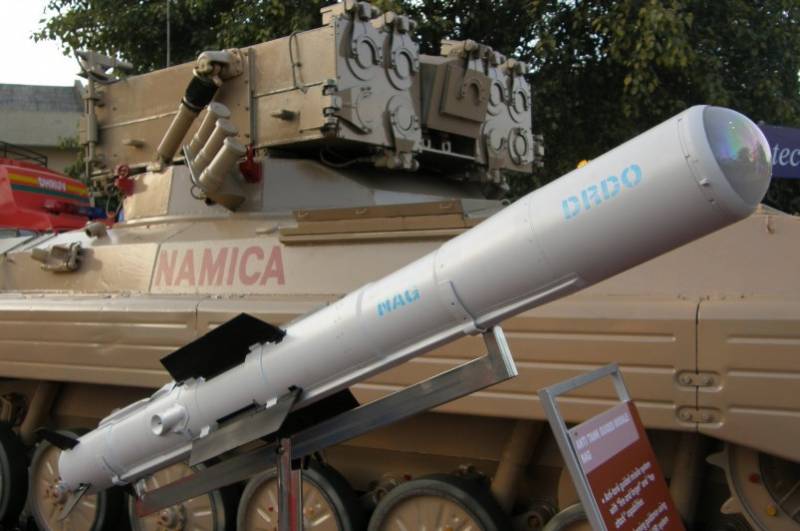 In India, the Nag anti-tank guided missile was tested in the direct attack mode and the attack of armored vehicles from above. They were conducted by the Defense Research and Development Organization (DRDO) near Balasor, Odisha.
This was reported by the Indian newspaper Financial Express.
India has stepped up military preparations due to the tense situation on the India-China border.
And although an airborne version of the Nag ATGM (HELINA), which is now called Dhruvastra, was tested, the firing was carried out without the use of helicopters - in the so-called ground.
#WATCH Trials of Helicopter-launched Nag Missile (HELINA), now named Dhruvastra anti-tank guided missile in direct and top attack mode. The flight trials were conducted on 15 & 16 July at ITR Balasore (Odisha). This is done without helicopter. pic.twitter.com/C8hMj0VhDE

- ANI (@ANI) July 22th, 2020
The next stage of testing anti-tank missiles will be firing using Indian-made Dhruv and Rudra helicopters. They are produced by Hindustan Aeronautics Limited (HAL).
ATGM Nag, which in Sanskrit means "cobra", belongs to the category of third generation anti-tank guided missiles "fire and forget." It is intended for use by both the air force and motorized rifle units, as missiles can be launched from ground or air platforms. In the ground version, NAMICA is used as a carrier, which is a modernized Soviet BMP-2. Now such installations are available in the area of ​​the border with China in the province of Ladakh.