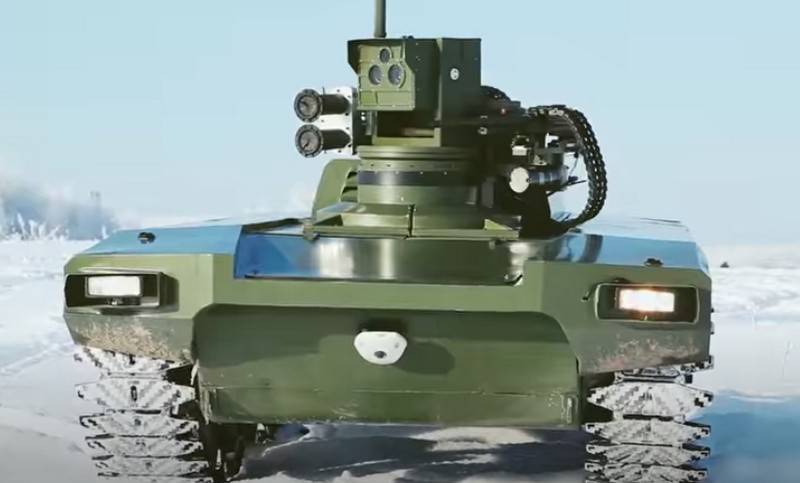 The developers of the Marker robotic platform, which is being created in the interests of the Russian Ministry of Defense, plan to teach the robot to conduct military operations in an autonomous mode, being from the operator "hundreds and thousands of kilometers". This was reported by RIA
News
with reference to the press service of NPO Aneroidnaya Tekhnika
According to the news agency, the developers of "Marker" set themselves the goal of making the platform completely autonomous in the future, capable of operating at a considerable distance from the operator.
One of the steps in the development of the project is to increase the autonomy. The control range of similar robotic platforms is limited to 2-5 kilometers. One of the goals of the developers is to teach the robotic complex to perform tasks independently at a greater distance from the operator, at a distance of hundreds and thousands of kilometers in the future
- said in a statement.
Key technologies of ground-based robotics are currently being tested on the Marker platform. In total, three stages are planned, by the end of the project a series of five vehicles will be produced - two wheeled platforms and three tracked ones.
The fifth platform, which will be developed by June 2021, will combine all the best acquired knowledge and competencies over the entire period of work on the project
- said the developers of the platform.
The beginning of tests of the robotic platform "Marker", created jointly by the Foundation for Advanced Research and the NPO "Android Technology", was reported in early March last year. The platform is designed in a modular fashion. In the future, such a technical solution will make it possible to quickly replace the payload, observation systems, and also modernize the robot.
The ultimate goal of the Marker project is to create a completely autonomous complex capable of independently performing a wide range of works. The operator will be able to set a task, and the robot will solve all other issues on its own - to build a route, look for a target and use weapons.