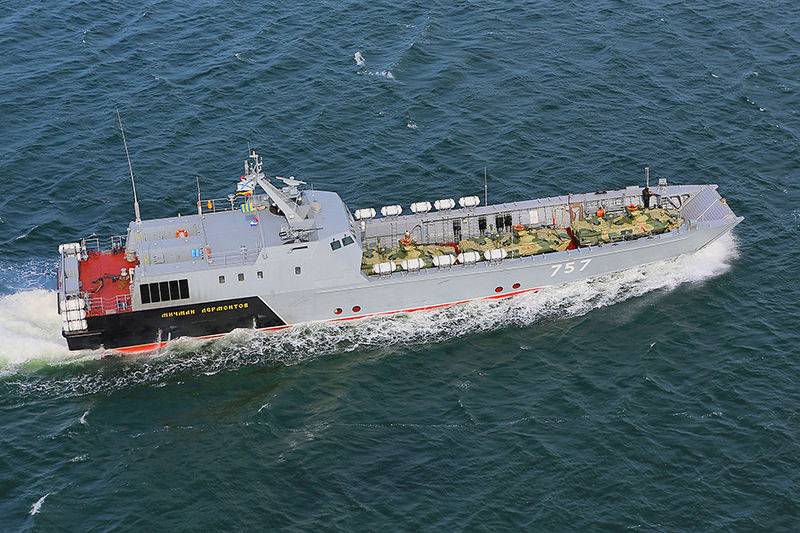 During a surprise check of combat readiness at the Khmelevka training ground in the Kaliningrad region, exercises were held. Their task was to land on the unequipped coast of the amphibious assault.
A message about this appeared on the official VKontakte page of the Ministry of Defense of the Russian Federation.
The maneuvers were attended by ships, boats and auxiliary vessels of the Baltic
fleet
, marines and naval engineering units. Preliminarily, Ka-27 PS helicopters landed special groups on the coast, which made passes through defensive minefields for the safe landing of marines' military equipment from the sea.
The landing was carried out from the Kaliningrad large landing craft and the Evgeny Kocheshkov small amphibious assault ship. Project 21820 Dugong air-cavity boats also took part in the landing of the Marine Corps.
In 2013, due to the design flaws of these landing craft, they were even going to curtail their production, about which
Reported
then the newspaper Izvestia. But, fortunately, this did not happen.
An air cavity differs from an air cushion in that a layer of compressed air develops under the bottom when the boat is moving, and is not forced by fans. This makes the Dugong boats more economical than their hovercraft counterparts. Since they reach speeds of up to 50 knots (about 90 km / h), it is very difficult to hit them with fire from the shore. Therefore, the use of "Dugongs" allows you to minimize losses during the landing of troops, without resorting to massive fire suppression of coastal defense.
Project 21820 landing craft can be loaded with 4 infantry fighting vehicles, 4 armored personnel carriers or 2
tank
... Instead of equipment, it can accommodate up to 90 marines.