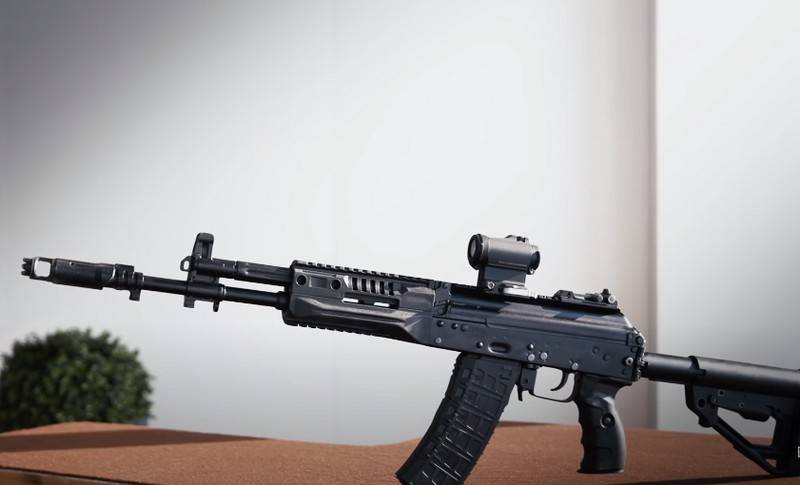 The first batch of the latest 12 mm Kalashnikov AK-5,45 assault rifles entered service with the Far Eastern Higher Combined Arms Command School. This was reported by the press service of the Eastern Military District.
According to the report, the AK-12 assault rifles came under the state defense order. In the near future
weapon
will be shot, after which it will be distributed among training units. Nothing is said about the number of machines received.
According to the plans of the Russian military, in 2020, the armed forces should receive 40 thousand new AK-12 assault rifles.
The Ministry of Defense received the first batch of AK-12 in the amount of 2,5 thousand in December 2018. On the adoption of the Kalashnikov Concern's assault rifles - AK-12 (caliber 5,45 mm), AK-15 (7,62 mm), as well as the V. Degtyarev plant - AEK-971 (5,45 mm), AEK -973 (7,62 mm), the military department officially announced in March 2019.
The Ministry of Defense said that in the troops AK-12 caliber 5,45-mm mainly replace the AK-74M. The machine gun was developed within the framework of the "Warrior" program and is included in it as one of the elements of the promising equipment complex of the Russian Armed Forces fighters. AK-12 adopted by all major arms of the military personnel of the combined-arms formations of the Ground Forces, the Airborne Forces and the Marine Corps.
Brief specifications AK-12:
Caliber: mm 5.45x39
Weapon length in combat position: 880-940 mm
Length with folded butt: 690 mm
Barrel length: 415 mm
Weight with empty magazine: 3.5 kg
Rate of Shooting: 700 rounds per minute
Store capacity: 30 cartridges