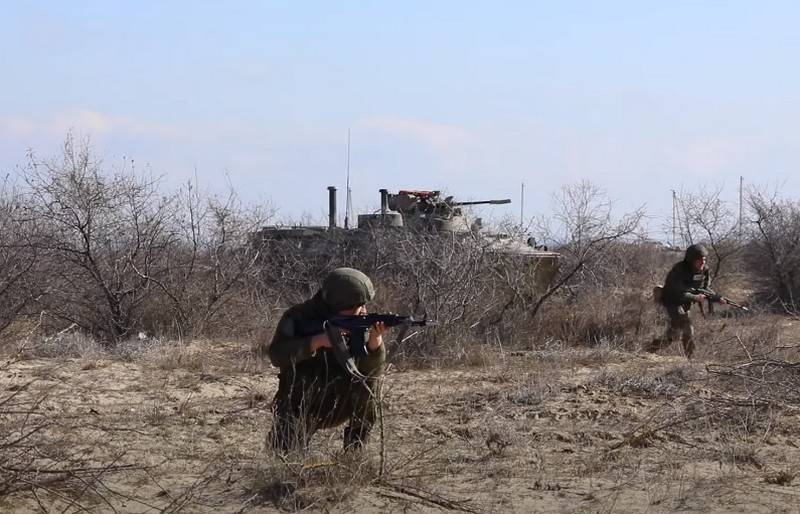 As part of the inspection, the servicemen of the Caspian
flotilla
In Dagestan, a training battle was held between the naval and airborne assault, in which the naval was victorious. This was reported by the press service of the Southern Military District.
According to the widespread message, as part of the exercises at the Turali training ground in the Republic of Dagestan, a training battle of sea and airborne assault forces was conducted. The Marines acted as the attacking side, the airborne assault held the defense.
Amphibious assault forces of the Caspian flotilla on the sea coast of the Turali training ground destroyed a tactical airborne assault in a bilateral exercise under a surprise combat readiness plan
- said in a statement.
According to the scenario of the exercise, the amphibious assault force landed on the coast. The disembarkation was provided by high-speed boats. Further, during a clash with a mock enemy, the Marines were able to break through to the rear of the battalion tactical group of the airborne assault, delivered to the site by Mi-8 helicopters.
At the final stage of the exercise, the Marine Corps units performed live firing from all types of small arms
weapons
and grenade launchers at targets imitating tracked, wheeled vehicles and groups of attacking infantry of a conventional enemy
- Said the press service.
Recall that the Commander-in-Chief of the RF Armed Forces, President Vladimir Putin announced a surprise check of the troops of the Southern and Western military districts, the marines of the Northern and Pacific fleets and separate formations of central subordination, as well as the Airborne Forces (Airborne Forces).