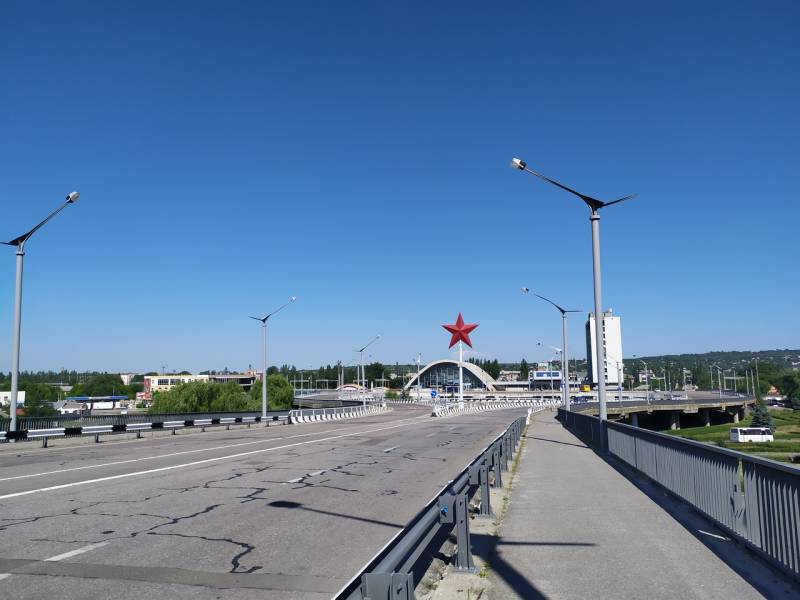 The crack gets wider
There is a split in the LDNR society, which is fraught with serious problems in the future and is already provoking a lot of misunderstanding between various factions. The irreconcilable opponents of Ukraine have finally ceased to find a common language with those who have nothing against their former compatriots. Moreover, people who hold conciliatory positions, in fact, cause irreparable harm to the unrecognized republics.
Indeed, what could be more harmful? War - on the contrary, it keeps you in good shape, tempers you. And not an endless "Minsk": since the days when the inhabitants of the LPR began to receive Russian passports, there was a very real hope for a transition to a completely different quality. Not the opposition, which is actually 2-3%, and not the government (with its ridiculous powers), because both the first and the second will always be; this is a constant, only the names change. The most irreparable damage to the republics is caused by people who do not care about the opposition with its hysterics, and who will wish Happy New Year from TV (even Pushilin, even Poroshenko, even Mickey Mouse). If only they could live well and calmly, for the sake of which they are ready for anything, right up to the return to Ukraine.
And if it makes sense to talk about the "drain" of Donbass, then it is not Putin and Peskov and not Girkin, who stains everything that they can reach, and not the local nouveau riche who, although they harm a lot, are not doing it around the clock, but the road to Ukraine is closed to them. in connection with which they associate their future with Russia and the republics. Nothing compares with the harm that indifferent people, concerned only with consumer matters, do to the republics. Those who constantly travel to Ukraine (because it is profitable today), but receive a Russian passport (because it may be profitable tomorrow) and see nothing wrong with it. Every day there are more and more such people, and they are infinitely far from those who created the LPNR in the spring of 2014 or defended them later.
Irreconcilable minority
When in 2014 the familiar to all Ukraine cracked at the seam and perished forever, Crimea and Donbass protested not only against the junta that had seized power, but also against everything that it symbolized. The values ​​that the adherents of "European integration" carried with them. The question was not only about the need to protect the Russian language and the fight against Russophobia, but also about the rejection of same-sex marriage, juvenile justice, cosmopolitanism and other attributes of today's West. Many realized the need to protect themselves and their children, their faith from cultural Marxism, which successfully subjugated the once conservative culture of the US and the EU.
Even more people looked at Russia as a potential source of benefits, which would not only bring order in Ukraine (in the South-East, Donbass, on the peninsula), but also instantly, by magic spells, correct everything that had been spoiled during 25 years of independence, and will provide everyone with a standard of living equal not to Tula or Kursk, but at least to Peter. Crimea was very lucky (although there are already a lot of dissatisfied and "unbeaten" citizens), but Donbass had to fight. And when it became clear that the war was for a long time, and the standard of living was approximately equal to the Russian outback, whining floated over the steppes and waste heaps, and the checkpoints on the contact line were filled with crowds of those who had never quarreled with Ukraine.
Society in the LDNR has split into irreconcilable ones who see in Ukraine (or at least its government) exclusively an enemy and are ready to fight with him to the last patron, and into those who, in principle, do not feel negative emotions either towards Kiev, or even more so towards the Ukrainians. and therefore considers it normal to have both Ukrainian and Russian passports and regularly travel to Nenka for rest, shopping or even work, despite the mandatory 1,5% tax on military operations.
The gulf
The more well-fed and prosperous life becomes, the more claims arise (especially among those who have sat out the hot phase of the war in Ukraine or in the Russian Federation), the faster appetites grow. Russia turned out to be guilty all around - it didn't support it so much, it didn't save it so much, it didn't feed it so well ... Regular trips to Ukraine ceased to be a reason for suspicion: do they need to eat somewhere? The number of those who do not realize or simply do not want to see the crimes of Ukraine and the essence of its authorities is becoming more and more every day. On the other hand, there are ideological people who fought and are at war. Those who lost relatives and friends under Ukrainian artillery and air raids. Those who will never call themselves Ukrainians.
It is clear that the interests of these people are incompatible. Someone dreams of canceling the curfew, that in Donetsk it would be possible to buy fashionable computer games or something else "vital", so that it would be convenient to get to Crimea, or better to Berdyansk; to have loans, shares. And for the sake of this they are ready to endure at least LGBT parades, at least gender education in school, at least the regular shelling of Gorlovka. And someone wants to reclaim the lost territories and wants the gallows on Bankova, on which war criminals will hang out. It is clear that these things are incompatible.
How to bridge this gap? Hard to say. Probably, first of all, for this, there should be a sane ideology and reasonable propaganda, and not popular artworks of republican luminaries and throwing from anti-Ukrainian rhetoric to the thesis "Zelensky, recognize Donbass" associated with Minsk. There must be some specifics that will definitively and irrevocably determine who Ukraine is for the LPNR: a mother or a stepmother. Who are the Ukrainians themselves: a bloodthirsty fascist clique, supported by a quiet, silent majority, or good guys who just made a mistake somewhere (plus they are run by some villains). New meanings are needed, not ambiguity. Otherwise, a split in society is inevitable, and the abyss will grow so much that it will never be possible to cross it.