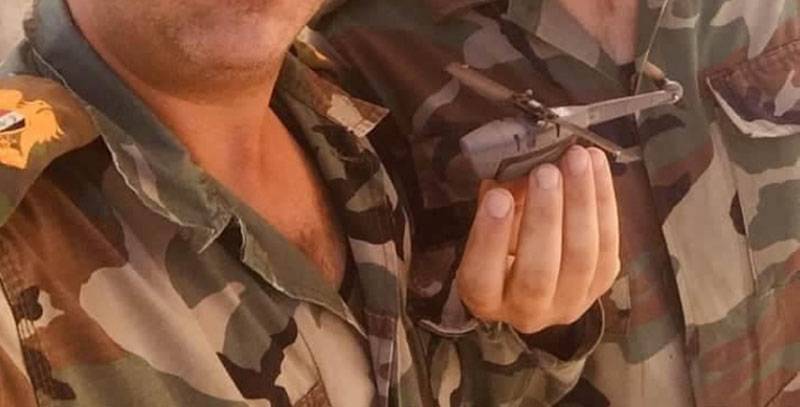 CAA snapshot
From Syria, there are reports that the latest foreign-made drone has fallen into the hands of the fighters of the Syrian government army. We are talking about the American Black Hornet 3 mini-drone, which carried out a reconnaissance operation in northeastern Syria - in the area of ​​the city of Tal Tamr (Haseke province).
SAA servicemen published a frame in which they captured themselves with a new modification of the American Black Hornet mini-drone.
American units use this newest drone to conduct local reconnaissance, revealing enemy positions in certain territories. In the Pentagon, this mini-apparatus is often referred to as the PRS personal intelligence system. It was created by the Prox Dynamics group, which became part of FLIR Systems in 2016.
A mini-helicopter-type drone has a length of about 15 cm, its weight is no more than 45 g. Control is carried out using a special tablet, which is possessed by a military operator. In the line of sight, the drone can operate through a special conductor (thin wire) that connects it to the operator. According to the latest data, the new modification has the ability to act autonomously - beyond the line of sight, moving when using GPS navigation. He transfers the "picture" to the operator's tablet. The image, including video, is recorded using two cameras, including thermal imaging. In other words, it can act at night. The device has a function of automatic return to the starting point.
The US Army in Syria has special communication centers (docking stations) capable of controlling a swarm of up to eight Black Hornet 3 simultaneously.
The United States fears that the Syrian military may transfer the technologies used on the mini-drone to Iran or Russia.