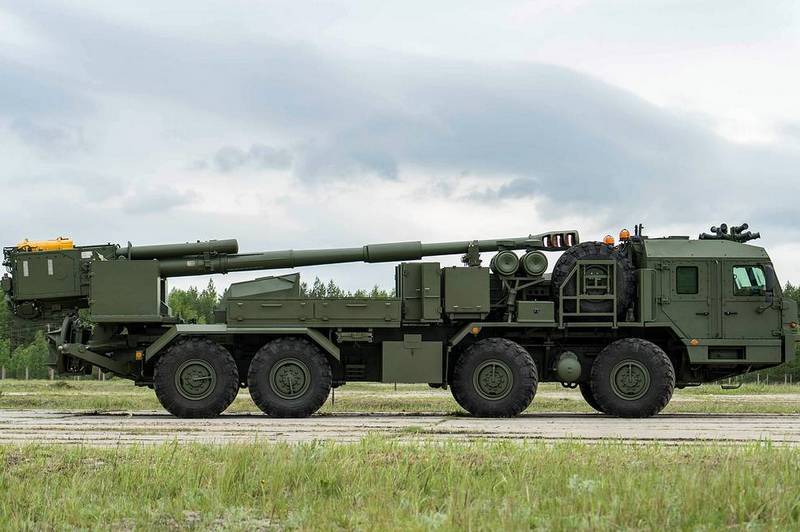 A photo of a new self-propelled gun "Malva" on a wheeled chassis has appeared in the Russian media. The image was provided by the Central Research Institute "Petrel", leading the development of a new artillery gun in the framework of the R & D "Sketch".
The first image of SAO 2C43 "Malva" (figure) appeared in mid-October last year. At the same time, the first information about the new wheelbase artillery was announced. As reported, the 152-mm 2A64 cannon used in the Msta-S self-propelled guns is used as a firing component at Malva. It is possible to install an upgraded version of this gun, but the data is not available due to the secrecy of the development. Also, the developer has not yet disclosed the characteristics of the new complex.
The presence in the new CAO of elements of already produced artillery systems will significantly reduce the cost of mass production of the Malva and will facilitate its development in the troops if this novelty is adopted by the Russian army. It should be noted here that wheeled artillery systems are not widely used in Russia, while in the West this technique is very popular.
The Malva chassis is the BAZ-6010-027 all-terrain vehicle with an 8x8 wheel arrangement manufactured by the Bryansk Automobile Plant, and not the Belarusian MZKT tractor, traditionally used in the Russian army as a platform for placing various weapons. As stated, the use of a Russian all-terrain vehicle with a high cross-country ability and reliability as a chassis will allow the Russian army to get rid of foreign components in military equipment, which greatly simplifies operation.
As previously reported, in the framework of the R&D project "Sketch" a whole flower garden is being developed, which, in addition to "Mallow", includes 120-mm Flook SAO on the Ural-VV chassis, 120 mm Arctic Magnolia self-propelled guns on the chassis of a two-link tractor DT-30MP and 82-mm mortar "Drok" on the chassis "Typhoon-VDV".