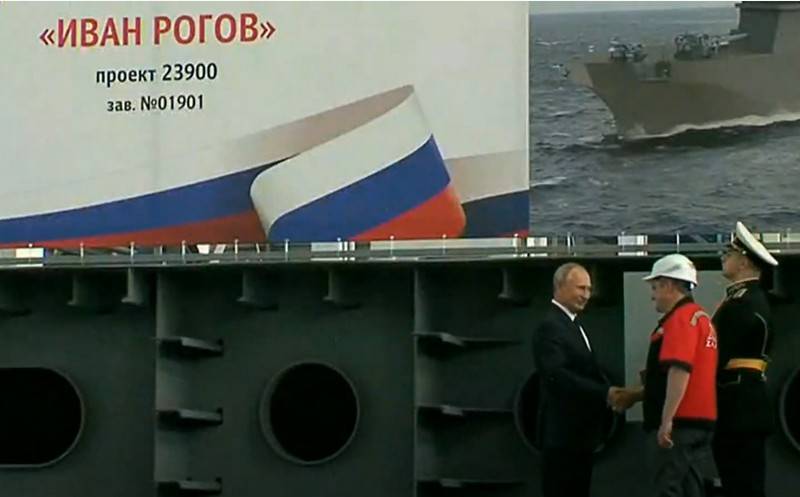 Russian President Vladimir Putin took part in the laying of two newest universal amphibious assault ships in Crimea. The ceremony was held at the shipyard "Bay" in Kerch.
Reportedly, the new UDCs received the names "Ivan Rogov" and "Mitrofan Moskalenko", and not in honor of the hero cities, as previously assumed. The Russian president took part in the installation of a mortgage board for the Ivan Rogov UDC, the mortgage board for the section of the second helicopter carrier Mitrofan Moskalenko was installed by Deputy Prime Minister Yuri Borisov, Deputy Defense Minister Alexei Krivoruchko, and Navy Commander-in-Chief Nikolai Evmenov.
UDC received the names of Soviet military leaders during the Second World War. Colonel-General of the Coast Guard Ivan Vasilievich Rogov during the Great Patriotic War participated in the development of a plan for the liberation of Crimea from Nazi invaders. Colonel-General of the Coastal Service Mitrofan Ivanovich Moskalenko took part in the development of a plan for providing food for the besieged Leningrad.
At the same time, Putin took part by video link in the laying ceremonies in Severomorsk and St. Petersburg. The laying of two multipurpose nuclear submarines of the Yasen-M project (project 885-M) with the names Voronezh and Vladivostok took place at the Sevmash plant in Severodvinsk. As the general director of "Sevmash" stated, the project 885M nuclear submarines are equipped with hypersonic
weapons
.
The President of Russia addressed the workers of the shipyard, he congratulated the employees and their colleagues from St. Petersburg and Severodvinsk "on the big event, with a very important and significant step in the development of the naval
fleet
"At the same time, the president did not rule out the extension of the UDC series in the future, saying that a decision would be made following the operation of these ships.
At the same time, the laying of two frigates of the modernized project 22350 took place in St. Petersburg. The ceremony took place at the Severnaya Verf shipyard.
Two frigates of the modernized project 22350 were laid down at the Severnaya Verf, the ships were named Admiral Yumashev and Admiral Spiridonov. The head of the Ministry of Industry and Trade of the Russian Federation Denis Manturov and the Governor of St. Petersburg Alexander Beglov took part in the laying ceremony, who installed the mortgage boards on the section of the ships.
As previously reported, both frigates laid down belong to the second series of frigates of Project 22350 and will carry 24 Caliber, Onyx or Zircon cruise missiles, in contrast to the first series armed with 16 cruise missiles.
Recall that the decision to lay down two more frigates of Project 22350 was made following the results of the operation of the lead ship of the series, Admiral Gorshkov, serving in the Northern Fleet.