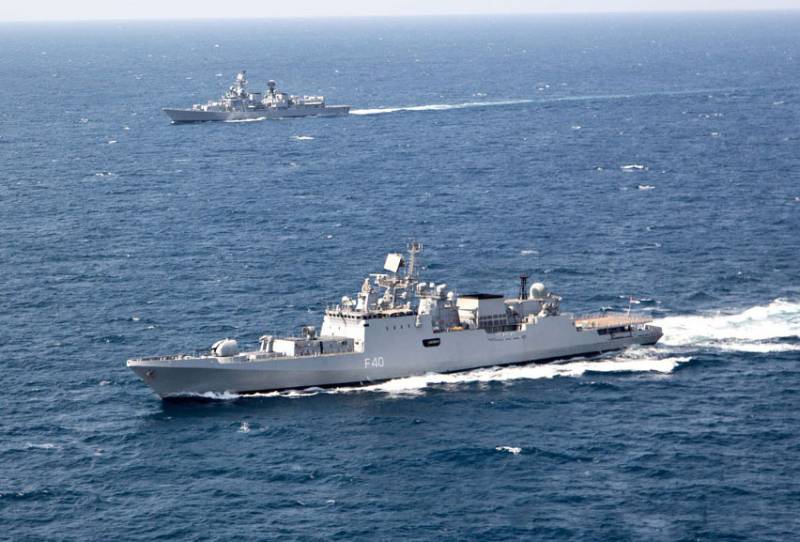 Indian journalists, after several weeks have passed since the clash between the military personnel of India and China, suddenly discovered the presence of a certain "positive" outcome.
Hindustan Times columnist Shishir Gupta writes that while everyone was distracted by the Ladakh region, where the skirmish took place in the Galvan Valley, Indian forces increased their presence in the Arabian Sea and the Bay of Bengal.
From an article by an Indian author:
According to sources based in Mumbai, Vishakhapatnam, and New Delhi, after the Galvan incident on June 15, Indian Navy warships, including an aircraft carrier and submarines, took up positions on the east and west coasts to repel any threat from the Chinese Navy. This threat is leveled from the Strait of Malacca right up to the Horn of Africa.
Shishir Gupta writes that the Chinese warships "are using the cover of the anti-piracy mission," but allegedly in fact they are using opportunities for intelligence and other activities against the interests of India.
At the same time, it is argued that one of the Chinese warships, which entered the Indian Ocean from Indonesia, was allegedly forced to turn back, "seeing" several ships of the Indian Navy. In other words, if you believe the statement, the ships of the Indian Navy "did not let" the Chinese warship into the Indian Ocean ... The observer Gupta writes about this with reference to an unnamed representative of the country's naval forces. When this incident occurred, it is not reported.
The author also states that today the Indian naval strategy is "not to build an indefinite number of aircraft carriers, but to modernize military facilities in the Andaman Islands, as well as in the Lakshadweep archipelago." Allegedly, this will further help contain the Chinese Navy in the Indian Ocean.