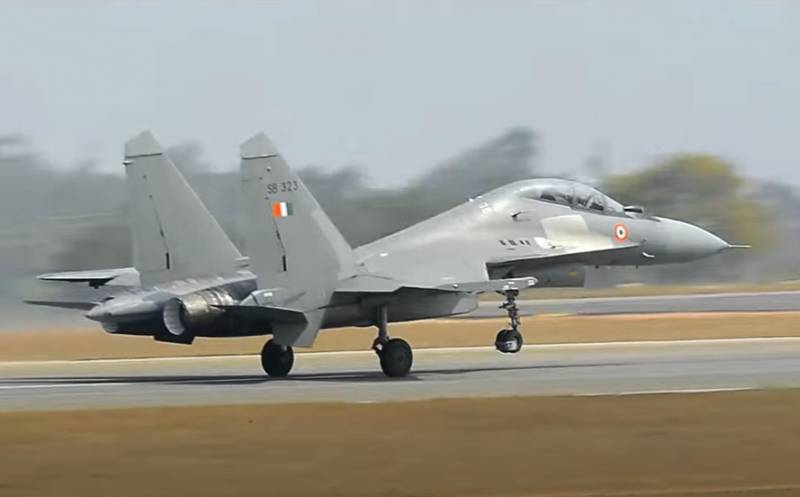 The Chinese media published material that examines the Indian Air Force fighter fleet. On the Sohu portal, they decided to pay special attention to the Su-30MKI fighters, which are in service with the Indian Air Force. The author of the article states that in India "there are problems with the Su-30MKI aircraft."
The Chinese author in his article on the pages of the mentioned resource announced that the losses that India suffered in Su-30MKI aircraft during planned training flights are associated with "problem engines of Russian production". It is argued that "the problem with the engines is longstanding." From the article:
The problem of Russian engines has existed since Soviet times. Over time, the problem of engine power becomes more apparent. Although Russia has made many adjustments, it has not completely resolved this problem.
It goes on to say that India "has repeatedly made claims against Russia." And these claims were allegedly related to "Russian dissatisfaction with India
aviation
engines ".
More than strange arguments and statements in the Chinese media, especially when you consider that a few days ago, Indian Defense Minister Rajnat Singh visited Moscow and agreed on new deliveries of Russian fighters.
In this regard, the Chinese author's attempt to identify the "problem with the Su-30MKI" looks like nothing more than a desire to find something that does not exist - against the backdrop of the Sino-Indian confrontation in Ladakh. It is not in China's interests to strengthen the Indian Air Force. And if we recall that in India they said about the spotted onboard radar of the Su-30MKI of the Chinese J-20 stealth fighter, then it becomes clear why Sohu is directing its publication against the Su-30MKI.