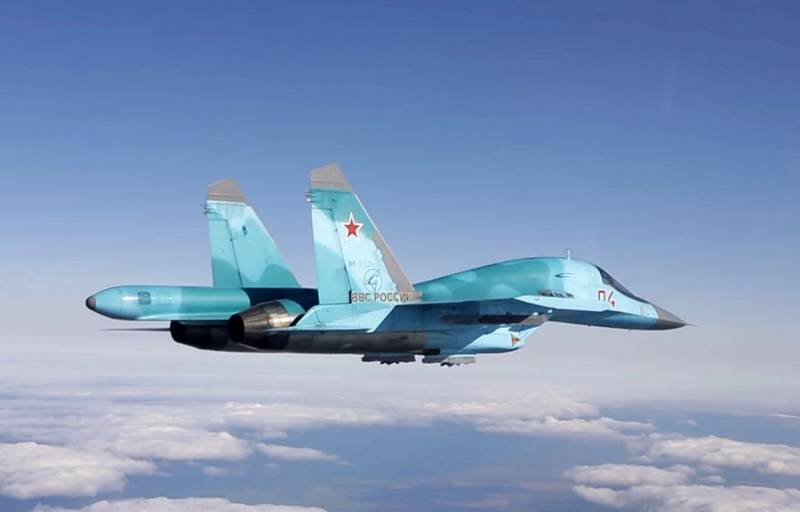 The upgraded Su-34 bomber has joined the aviation regiment stationed in the Voronezh region. The regiment is part of the Leningrad Army of the Air Force and Air Defense of the Western Military District. The press service of the Western Military District reports.
The flight and technical staff of the aviation regiment carried out the acceptance of new equipment and the inspection of the main components and assemblies of the manufacturer, and also completed its relocation to the place of permanent deployment
- said in a statement.
Reportedly, the upgraded version of the Su-34 that entered the regiment differs from the base model in improved electronic warfare (EW) systems, as well as weapons control and guidance. It is noted that this aircraft is the first in a batch of modernized Su-34 bombers produced in Novosibirsk.
At the same time, the option of modernizing the Su-34 remains unclear, since the contract concluded in August 2019 for the modernization of the Su-34 bomber, taking into account the experience of using the aircraft in Syria, provides for the bomber to receive improved avionics and new weapons. Last year, "Sukhoi" just started the preliminary design of a modernized version of the bomber.
Most likely, we are talking here about a batch of Su-34, which underwent modernization as part of the Sych development work (ROC), completed in 2019. As part of this modernization, it is planned to install reconnaissance suspended containers on the bomber, and the range of products is significantly expanded.
aviation
means of destruction.
Su-34 is a Russian multifunctional fighter-bomber, designed to attack aircraft by means of destruction at ground targets of the enemy in operational and tactical depth under conditions of strong opposition. It refers to the generation of 4 ++ and allows you to perform basic combat missions without escorting fighter jets. It uses long-range air-to-air and long-range air-to-air weapons with multi-channel applications. Equipped with a highly intelligent radar counter and defense system. Flight range - up to 4 000 km, maximum speed - up to 1 900 km / h, combat load - up to eight tons.