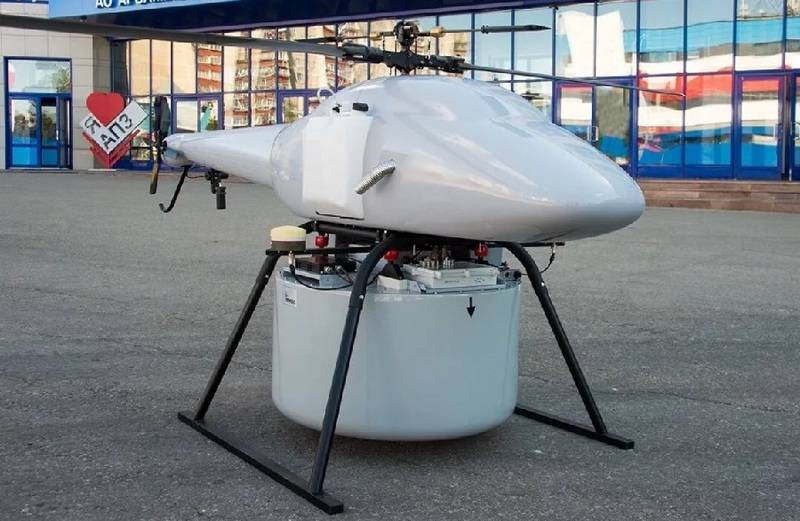 The Ministry of Defense can get into service a new multifunctional helicopter-type drone. As follows from the materials of the Aircraft Builder of the Year contest, a contract for its delivery to the RF Armed Forces is expected in the near future.
Reportedly, a new helicopter-type drone, dubbed the Grach, was created by specialists from the Arzamas Instrument Design Bureau (APKB LLC, a subsidiary of the APZ) under the scientific supervision of the Voronezh Air Force Academy (VVA). The UAV was created according to the classical scheme of a helicopter with one main and tail tail rotors. Petrol engine.
In the near future, after testing, it is planned to assign the letter "O" and conclude a state contract with the Russian Ministry of Defense for the supply of the first multifunction helicopters as part of the state defense order
- said in a statement.
It is stated that this drone can be used both as a reconnaissance and as a transport cargo. With its own weight of 100 kg, it is able to lift cargo weighing up to 40 kg and deliver it to a distance of up to 400 km.
The previous version of the UAV-VT "Grach" UAV was shown at the Army-2018 international military-technical forum. The UAV could deliver 50 kg of cargo per 300 km, the flight altitude was called 3,5 km, speed - 160 km / h, while in the air - 6 hours. Since then, the drone has been modernized: the weight of the carrier and payload has been reduced to increase the range and flight time. The designers also improved the shape of the direction finder so that the helicopter becomes more maneuverable and resistant to wind.
Currently, developers are preparing for testing and licensing the drone in accordance with the Air Code of the Russian Federation.