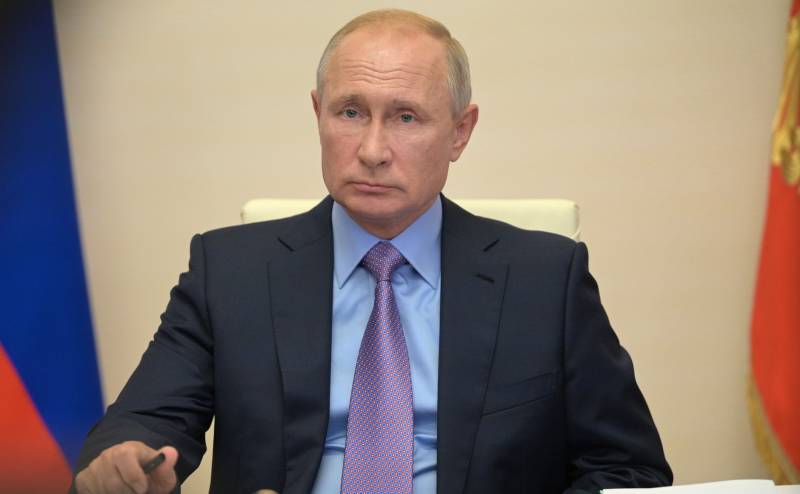 The meeting on the federal budget for the next year and for the planning period until 2023 has ended. The videoconference meeting was chaired by the Russian President in video format. The president began by mentioning the economic problems that Russia faced in connection with the pandemic. At the same time, Vladimir Putin said that the coronavirus "froze the entire world economy."
Speaking about the fall in Russia's GDP, President Putin said that in April this fall was 12%, and in May - 10,9%.
According to Vladimir Putin, the amount of support for families over the past period has become unprecedented for our country.
Putin:
I know the numbers in other countries, and I am well aware of this. We always compare our actions with what is done by our partners, neighbors, and our friends. But, you can say, I just mentioned this, point-wise as a whole we got where we wanted.
According to the president, the measures taken helped to smooth over the severity of the crisis. Vladimir Putin noted that consumer activity in June-July increased by 3,8% compared to the pre-crisis February. Electricity consumption in the country has risen to the pre-crisis level, the president said.
The main task for the economy today, according to the head of state, is to restore the pre-crisis indicators of the labor market.
During the meeting, Vladimir Putin recalled the plans and programs in force in the country. In particular, they talked about the so-called May presidential decrees (of 2012).
The head of state, addressing the meeting participants:
Our previous plans in vital sectors should not only be kept in mind - they should be implemented (...) The decisions that I have just said should not just be fixed somewhere and forgotten in connection with the problems that have occurred, these decisions must be implemented.
As an example, Putin cited the May decree on maintaining the level of pay for servicemen at a level that would not be lower than the level of pay for workers in organizations in leading sectors of the economy.