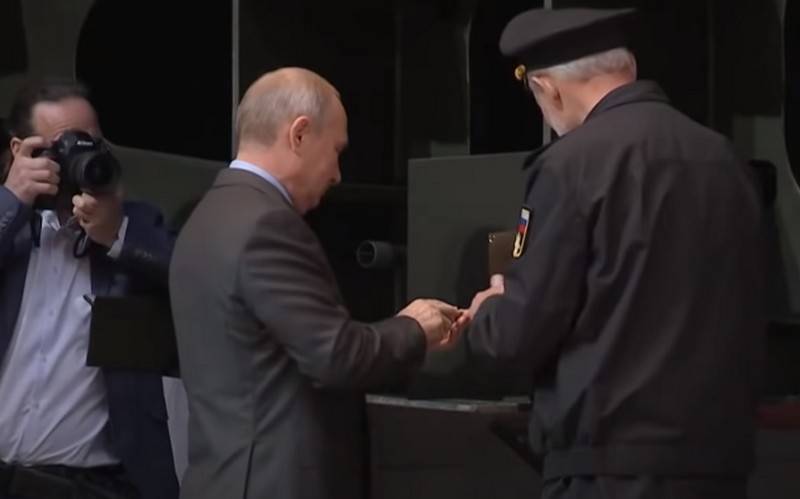 Russian President Vladimir Putin postponed a trip to Crimea and participated in the laying of new universal landing ships at the Zaliv shipyard in Kerch on Monday, July 20. This was announced by spokesman for the Russian leader Dmitry Peskov.
According to Peskov, the postponement of the date of Putin's trip to the Crimea is associated with the holding of the first meeting on the upcoming budget process.
Today there have been changes in the president's work plans: a trip previously announced by us to the Crimea and participation in the ceremony of laying new warships will take place on Monday. Working trip to Crimea postponed to Monday
- declared Sands.
Thus, it can be stated that the laying of two UDCs at the Zaliv Shipyard in Kerch, previously announced on July 16, will be held on July 20. The question remains open of laying two frigates of project 22350 at the Severnaya Verf shipyard in St. Petersburg and two multipurpose submarines of project 855M (Yasen-M) at Sevmash in Severodvinsk. It is not known whether these bookmarks will be rescheduled also on Monday, as it was previously reported that Putin was supposed to "be present" by video link in both Severodvinsk and St. Petersburg.
As previously reported, the frigates preparing for the tab will receive names in honor of the Russian admirals Ivan Yumashev and Emil Spiridonov. Nuclear submarines will be named in honor of Vladivostok and Voronezh, one of two UDCs of project 23900 is planned to be named in honor of the Hero City of Sevastopol. The name of the second has not yet been disclosed.